TCL – 12,000 BTU split air conditioner
4-in-1 device, cooling and heating, 3.4 kW
High quality split air conditioner with indoor and outdoor unit for cooling, heating, ventilating and dehumidifying
With Quick-Connector coupling for quick, easy and clean installation by an air conditioning technician
Controlled using remote control, WiFi function or an app while out and about
The intelligent inverter technology consistently monitors the preferred temperature and compares it with the current room temperature
Timer function can be set in 24 hour mode, switches on and off according to set time
Volume level can be reduced by setting a low fan speed or sleep mode
Improves the indoor climate and increases well being by ionising the air
Bright LED display is easy to read and consumes minimal power
The auto-restart function continues the selected program after switching off or in the event of a malfunction, meaning entering settings again is not necessary
The fan speed is modified during heating to prevent an unpleasantly cold flow of air onto the skin
Post-drying in standby mode to prevent the formation of harmful bacteria and moulds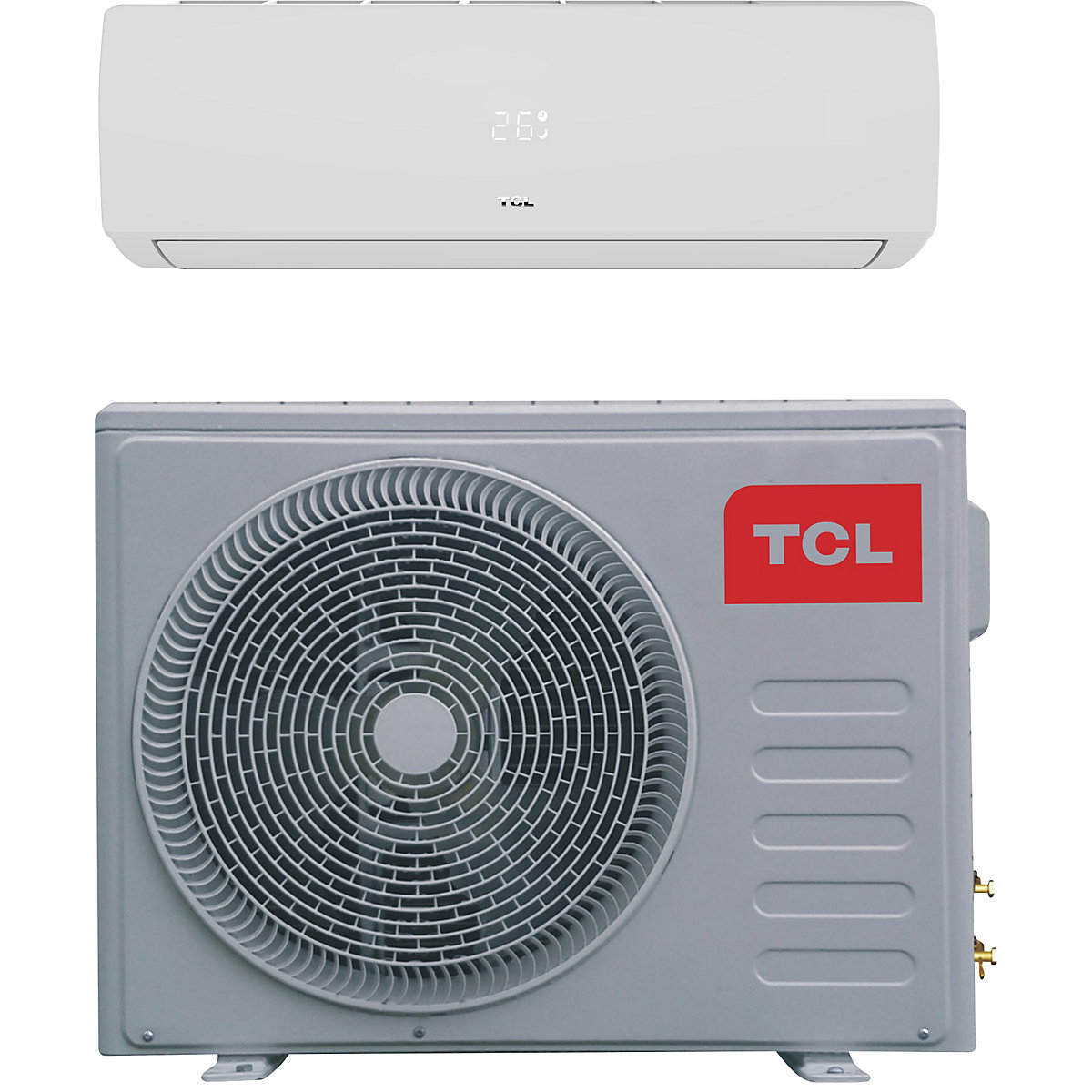 Ref.: 650305 49
TCL – 12,000 BTU split air conditioner, 4-in-1 device, cooling and heating, 3.4 kW, for rooms up to max. 35 m², white
Price / items (Excl. VAT)
4-in-1 split air conditioner incl. heat pump, consisting of an outdoor unit and an indoor unit, which remain interconnected by a 5 m long, precharged refrigerant line. The heat pump technology operates down to an outside temperature of –15 °C. The self-diagnosis function automatically detects faults, shows them on the display and activates an automatic circuit breaker. An additional activated carbon filter ensures a healthier indoor climate. The air conditioner is ideal for dehumidification, with a small temperature difference. The air conditioner can also be controlled by voice command in combination with use of an Alexa speaker. The Alexa speaker is not included in the scope of delivery. Supplied complete with a wall bracket.
GWP of refrigerant 675, SEER 6.1, SCOP 4.0, cable length 1.5 m.

Dimensions of indoor unit WxHxD 777 x 250 x 201 mm, sound pressure 22 dB(A) or more, sound power level 50 dB(A), weight 8 kg.
According to the F-Gas EU Regulation 517/2014, split air conditioners may only be installed and commissioned by certified specialist companies.
The escape of coolant causes climate change. Coolants with a low global warming potential are not quite as harmful to the environment if they escape as those with a high global warming potential. This device uses coolant with a global warming potential of 675. This means that the escape of 1 kg of this coolant has 675 times the effect on global warming as 1 kg of CO2 over a period of one hundred years. Do not perform any work on the cooling circuit or disassemble the device – always consult an expert.
High quality split air conditioner with indoor and outdoor unit for cooling, heating, ventilating and dehumidifying
With Quick-Connector coupling for quick, easy and clean installation by an air conditioning technician
Controlled using remote control, WiFi function or an app while out and about
The intelligent inverter technology consistently monitors the preferred temperature and compares it with the current room temperature
Timer function can be set in 24 hour mode, switches on and off according to set time
Volume level can be reduced by setting a low fan speed or sleep mode
Improves the indoor climate and increases well being by ionising the air
Bright LED display is easy to read and consumes minimal power
The auto-restart function continues the selected program after switching off or in the event of a malfunction, meaning entering settings again is not necessary
The fan speed is modified during heating to prevent an unpleasantly cold flow of air onto the skin
Post-drying in standby mode to prevent the formation of harmful bacteria and moulds
Power

3.4

kW
Mains voltage

220 – 240 V / 50 Hz

Height

498

mm
Width

777

mm
Depth

290

mm
Noise level

50

dB(A)
Sound power LWA

60

dB(A)
Weight

30

kg
Housing colour

white

Fittings

remote control

Power consumption

290 - 1720

watt
Energy efficiency class for cooling

A++ (spectrum A++ to E)

Energy efficiency class for heating

A+ (spectrum A++ to E)

Energy consumption

195

kWh/1000h
Nominal cooling capacity

3.4

kW
Air circulation

550

m³/h
Cooling capacity

12000

BTU/h
Refrigerant

R32

Nominal thermal capacity

3.42

kW
Room size

35

m²
Temperature range

+16 °C to +31 °C

Supplied

pre-assembled, final assembly by customer

Customers who purchased this item also purchased