Hazardous goods storage cupboard, type 90
2 doors
Approval for storage of flammable liquids at the workplace in compliance with EN 14470-1 (type 90) and TRGS 510, Annex 3
Type approved as fireproof for >90 minutes, GS tested
Insulated in accordance with DIN 4102
Doors close automatically in the event of fire
Supplied complete with perforated metal cover for the base sump
Operation in accordance with TRGS 510 (also approved without extraction – the explosion protected area around the cupboard must be complied with)

Tested safety
This is a test mark. GS stands for tested safety.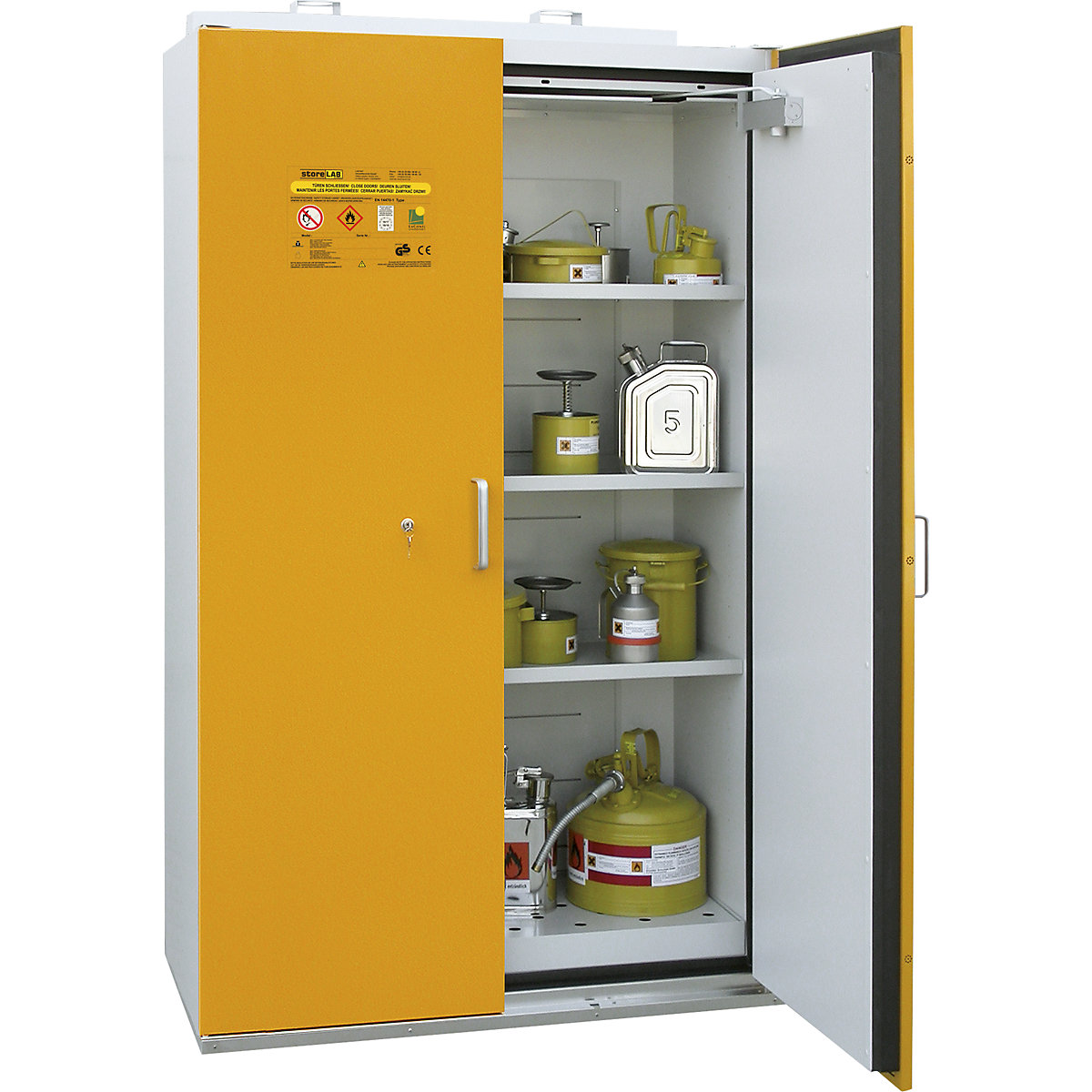 Hazardous goods storage cupboard, type 90, 2 doors, HxWxD 1935 x 900 x 598 mm
Sheet steel body, powder coated in light grey RAL 7035, hinged doors in daffodil yellow RAL 1007.
Inner body made of HPL coated panels – RAL 7035.

Base cover rail made of stainless steel – stainless steel diamond.
Ventilation connected using DN 80 pipe sockets.
Adjustable feet for levelling on uneven surfaces.
Earth connection compliant with TRBS 2153 (Avoidance of ignition sources).
Identification in accordance with EN 14470-1 / TRGS 510, Annex 3 / ISO 3864 / ASR A1.3.

Interior fittings:
1 x base sump in acc. with StawaR / manufacturer's declaration of conformity
1 x perforated metal cover as 1st storage level
3 x shelves height adjustable in increments of 64 mm

Delivered to the point of use at extra cost – please ask.

All specified max. loads apply with uniform load distribution.

Doors can be locked with cylinder lock.
Approval for storage of flammable liquids at the workplace in compliance with EN 14470-1 (type 90) and TRGS 510, Annex 3
Type approved as fireproof for >90 minutes, GS tested
Insulated in accordance with DIN 4102
Doors close automatically in the event of fire
Supplied complete with perforated metal cover for the base sump
Operation in accordance with TRGS 510 (also approved without extraction – the explosion protected area around the cupboard must be complied with)

Tested safety
This is a test mark. GS stands for tested safety.


Type 90 hazardous goods storage cupboards for the storage of flammable liquids. Proven protection against fire for 90 minutes, fire chamber tested and certified. Complies with EN 144701-1.

For water hazardous liquids


Fire resistance

90 minutes

External height

1935

mm
External depth

598

mm
Internal height

1700

mm
Internal depth

430

mm
Material

sheet steel

Body colour

light grey RAL 7035

Door colour

daffodil yellow RAL 1007

Door type

hinged door

Door version

2 doors

Lock type

cylinder lock

Number of doors

2

pcs.
Number of shelves

3

pcs.
Shelf material

sheet steel

Max. shelf load

75

kg
Shelf height adjustment increments

64

mm
Number of sump trays

1

pcs.
Supplied

assembled
Customers who purchased this item also purchased
Together we are strong: Helpful information about this product.