Print page
Cyclone principle & nano coated filters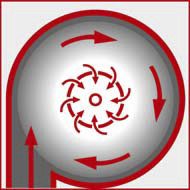 Cyclone principle
The tangential air inlet in the container allows the pick-up of dirt without need for an interceptor. This keeps dirt from clogging the intake ports and prevents it from directly impacting the filter as well. The filter is protected from damage in this way and its service life is significantly extended. Extending the life of the filter helps the environment and saves money. Moreover, heavier particles of dirt are slowed by friction with the walls of the container and drop down to the bottom of the waste container. Therefore, the filter only has to catch the lightest particles. This results in an extremely long service life for the filter.
Advantages:
No blocking of the air intake ports
Filter is protected against damage
No loss of suction power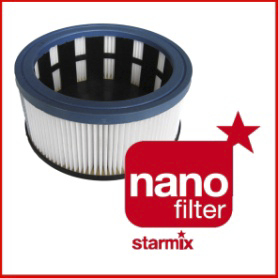 Nano coated concertina filter cartridge
The nano coating is ideal for vacuuming industrial dust, saw dust, masonry-, drilling- and milling dust, quartz sand and similar materials. It also offers extremely high dust collection capacity.
The filter is made of a special, nano coated cellulose material and is distinguished by its exceptional separation efficiency.
Applications:
Suitable for devices without automatic filter shaker.
Please observe the statutory
dust classes
.
Disclaimer
The information presented here is provided to the visitors of our website as a free service. The content in our pages has been carefully compiled. However, we are not liable for, nor can we always guarantee the accuracy, completeness or relevance of this information.
Copyright
The content and composition of our site is protected by copyright. Duplication, distribution, publication, modification, submission to a third party or processing of any structural elements, especially text, components of text, photographic materials, graphics and design elements requires prior, explicit written consent from KAISER+KRAFT LTD.
Hotline: 0800 0234 425

(Monday to Thursday 8 am to 5.30 pm, Friday 8 am to 5 pm)

Webcode: 0WEB
All prices without VAT!
Our offers apply to industry, commerce, craft and self-employed workers.
Close window