Back
A guide to the EUROKRAFTpro NEO e-module
Are platform trolleys with heavy loads being moved around in your warehouse? Then start making work easier and more efficient for your employees: upgrade your transport equipment by adding our e-module. The electric drive makes it easy to move loads of up to 500 kg. This not only takes most of the strain off both the user and the equipment, but also speeds up your work processes.
The NEO e-module is an electric drive which is built around ergonomics, occupational safety and flexibility. It can be used wherever manually operated industrial trucks are used. The NEO e-module significantly reduces effort when moving loads of up to 500 kg. This reduces strain on your employees and makes work safer all round.

The NEO e-module is comprised of a drawbar head and a drive unit. What makes it special: you can order the NEO e-module directly in combination with a range of EUROKRAFTpro trolleys, or retrofit one to the EUROKRAFTpro trolleys that you already have. Would you prefer to equip your own trolleys with an electric drive? Just as well that the NEO e-module is, of course, available separately. We'll check and let you know whether it can be combined with the equipment you already have.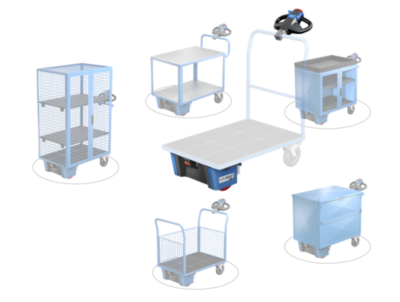 You can purchase the EUROKRAFTpro NEO e-module either individually, or in combination with our own platform trolleys from our product range.
Planning security and reliability
You'll benefit from premium quality, backed by a 10 year guarantee. We also guarantee a 5-year after sales service and excellent spare parts availability.
Significant improvements to work performance / efficiency
Use your electric drive
Everywhere where manually operated fork lift trucks are used
Always ready for operation
Easy assembly: highly versatile modular design
Drive battery: spare lithium-ion battery
Charging status: indicated visually and acoustically by a battery level indicator
Full mobility: up to 8 h of operation with one battery charge
Spare battery system: simply replace the drained battery with a fully charged one to ensure continuous operation.
Pairing: via Bluetooth, wireless. Fleet operation possible.
Charging time: 6 h until fully charged
Charging adapter: can be found under Accessories
Easy navigation
Fatigue-free operation: due to ergonomically shaped, multifunctional drawbar head
Easy steering: due to sturdy tubular handles
Infinitely adjustable speed control: using two thumb keys (maximum speed is 4 km/h)
Creep speed: can be activated as required, for high precision forward and reverse motion
Warning function: horn on drawbar head
Safety belly switch: prevents anything being caught when reversing
Integrated foot protection: prevents being caught under the drive unit
For everyone: no certificate of competence required
Protection against theft: access control by means of lock
Technical details
Voltage: 24 V
Mains voltage: AC 100 – 240 V width 685 mm for truck width 700 mm / 785 mm for truck width 800 mm
Depth: 430 mm
Height: 255 mm
Colour: charcoal RAL 7016 / light blue RAL 5012
Rechargeable battery: lithium-ion battery
Energy: 311 Wh
Electrical charge: 2 A
Charging time: 6 hours
Battery capacity: 12 Ah
Battery operating time: up to 8 hours
Multifunctional drawbar head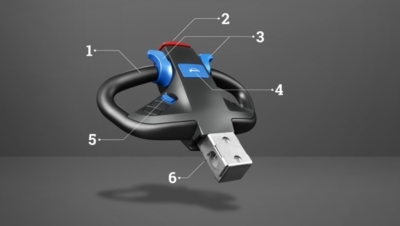 Ergonomic tubular handle: effortless operation with full driving control.
Body protection button: prevents trapping when reversing.
Continuously variable speed control: whether operating forwards or in reverse, and suitable for both left- and right-handed use thanks to two thumb switches. Maximum speed: 4 km/h.
Horn: danger signal can be sounded quickly and easily.
Creep speed: can be activated for precise forward and reverse manoeuvring.
Handle fits flexibly: for even better ergonomics, the angle of the tiller head can be adjusted from anywhere between 10° and 30°.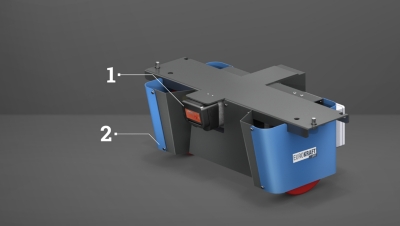 Powerful lithium-ion replaceable battery: the NEO e-module is equipped with a powerful, replaceable lithium-ion battery system. One battery charge provides up to eight hours of operation. The discharged battery can easily be replaced with a full one to ensure continuous operation.
Integrated foot protection: prevents trapping under the drive.
Easy electric motion
The EUROKRAFTpro NEO e-module
Convenient
Modern Bluetooth technology means cable-free installation; uninterrupted fleet operation guaranteed.
No connection errors to other devices that are nearby.
Safe
Infinitely adjustable speed control with a creep speed function, integrated horn and belly switch minimise the risk of personal injuries when reversing.
Straightforward
Able to carry a maximum load of 500 kg, the electric drive enables the operator to work safely without getting fatigued.
Ready to use & ready for use
The NEO e-module – preconfigured for combination with the transport products we make in our in-house production
Good to know: our tip when placing your order
The module is supplied complete with a rechargeable lithium-ion battery. The charger is available as an optional extra. Please note: if you are purchasing the e-module for continuous operation, you should also include the charger in your order to ensure unlimited operating time. Please also remember that the replaceable battery system means you'll only need one charger for three shelf trucks, for example.
An update for your transport
Our retrofit kits for the NEO e-module
Do you want to upgrade your existing EUROKRAFTpro truck with our NEO e-module? No problem: choose from our retrofit kits that let you combine the NEO e-module with eight truck types (please observe the technical details). We will be happy to check for you on request whether the NEO e-module is compatible with your third-party products.

Good to know: our guarantee is a promise
All our products are supplied complete with a guarantee of reliability: you receive a 3-year guarantee on EUROKRAFTbasic products, and a guarantee of at least 10 years on all EUROKRAFTpro items. A promise is a promise!
Birds of a feather flock together
Products compatible with the NEO e-module
Ready to use
Information, tips and interesting facts about the e-module – to read, revise, and re-order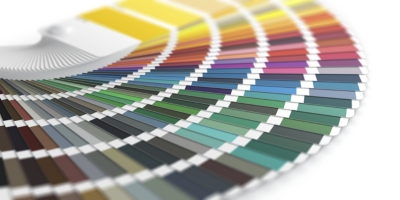 Upon request, you can purchase your transport equipment with our NEO e-module in an RAL colour of your choice.
Only if you pay our in-house production a visit: this is where we make the impossible possible for you. Learn more now about how we turn ideas into reality for you.
We'll make sure that you only move in one direction: forwards! This is why we offer you the very best transport solutions available – we want you to continue getting the goods you need to transport exactly where they need to be.
Discover all the potential of the EUROKRAFTpro NEO e-module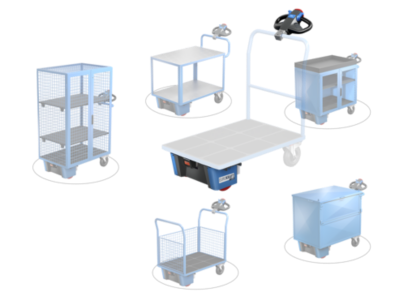 Our top products from this guide
Our top categories from this guide