KERN – Professional laboratory microscope
with 3 W LED lighting
360° rotatable microscope head
Trinocular microscope: for two eye image and additional options for attaching a camera
Abbe condenser: with a high numerical aperture for binding and focusing light
LED lighting: cold, energy saving and especially long-lasting light source
Infinity system: infinitely correctable optical system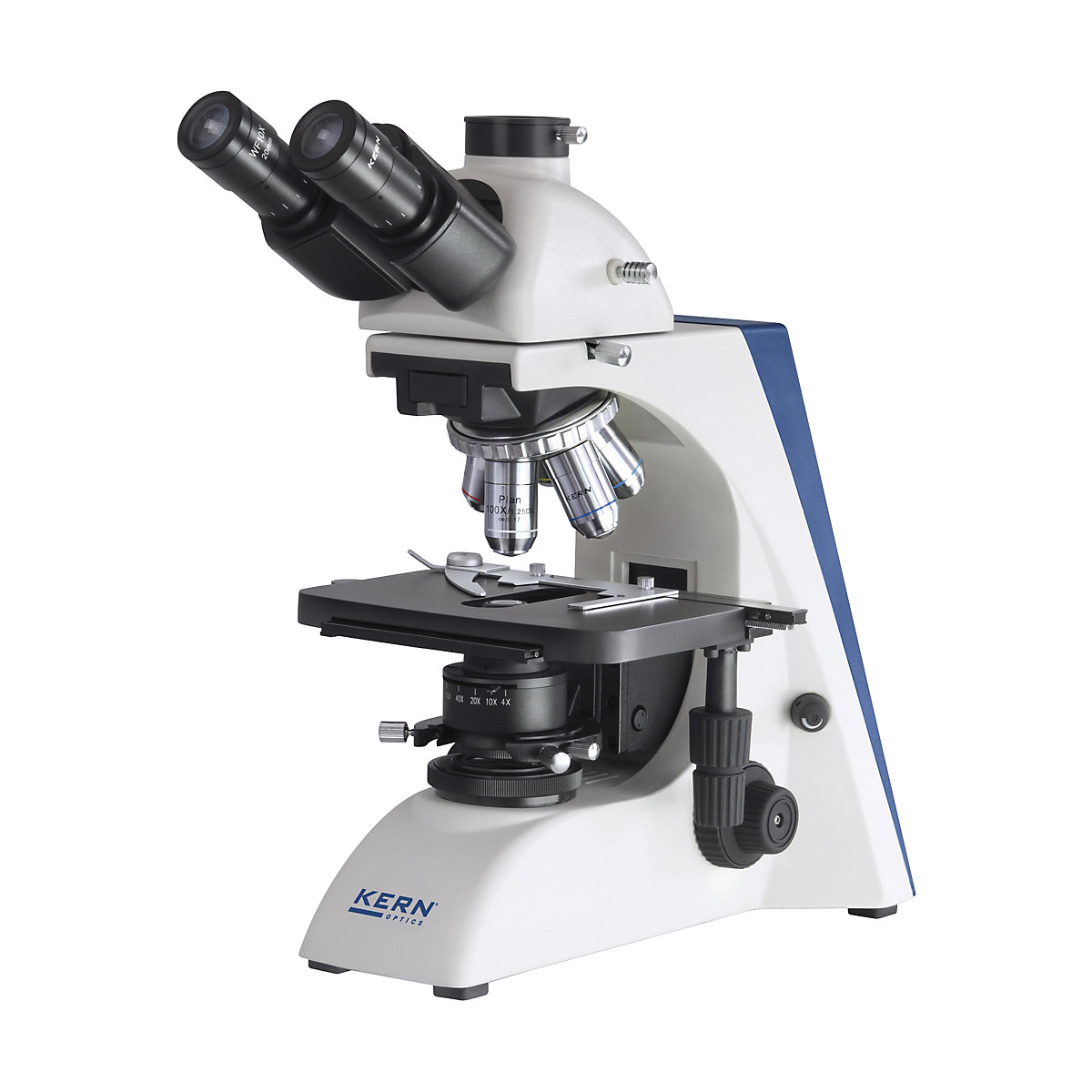 Ref.: 474562 49
KERN – Professional laboratory microscope, with 3 W LED lighting, trinocular
---
Good reasons to purchase products from us
3 year minimum warranty
30 day right of return
Free delivery
Fast delivery
---
We will be happy to help you
01442 238000
Monday-Friday 8am-5pm
A stable laboratory microscope for all standard routine applications that provides excellent images. This trinocular microscope is equipped with wide field eyepieces for a wide field of vision, two-sided diopter equalizer and infinitely correctable plano achromatic objectives.
The professional Köhler lighting is easy to adjust. It includes an adjustable field diaphragm and a centring as well as height adjustable Abbe condenser with an adjustable aperture diaphragm. As a result excellent images in both bright and dark fields are possible.
A revolving nosepiece with up to 5 objectives and a large specimen stage are included in the standard delivery. A stable and precisely adjustable mechanism is a central feature of this flexible but robust microscope series, which is also emphasized by its functional and ergonomic design.
360° rotatable microscope head
Trinocular microscope: for two eye image and additional options for attaching a camera
Abbe condenser: with a high numerical aperture for binding and focusing light
LED lighting: cold, energy saving and especially long-lasting light source
Infinity system: infinitely correctable optical system
Viewing distance

50 – 75

mm
Width

306

mm
Height

395

mm
Depth

200

mm
Lighting

3 W LED (transmitting)

Lens

4x / 10x / 20x / 40x / 100x

Lens tube

trinoculars

Voltage

100 – 240

V
Product type

microscopes

Supplied

partially assembled

Weight

10

kg