Waldmann – LAVIGO LED floor lamp
102 W, 14050 lm
Power level for the highest requirements in terms of light
Optimised ratio of direct to indirect light for uniform illumination of large calculation surfaces in accordance with regulations, ideal, for example, for the desktop of a shared workstation
Maximum energy efficiency due to the use of the latest LED technology
Glare control with light intensifying CDP microprisms incl. light forming technology
Easy to access, multifunctional control unit
Closed light head with cover
Suitable for future use due to LED light engines compliant with Zhaga standard
Large foot plate cut-out for optimal positioning at the workplace
Separate switching and dimming of direct and indirect light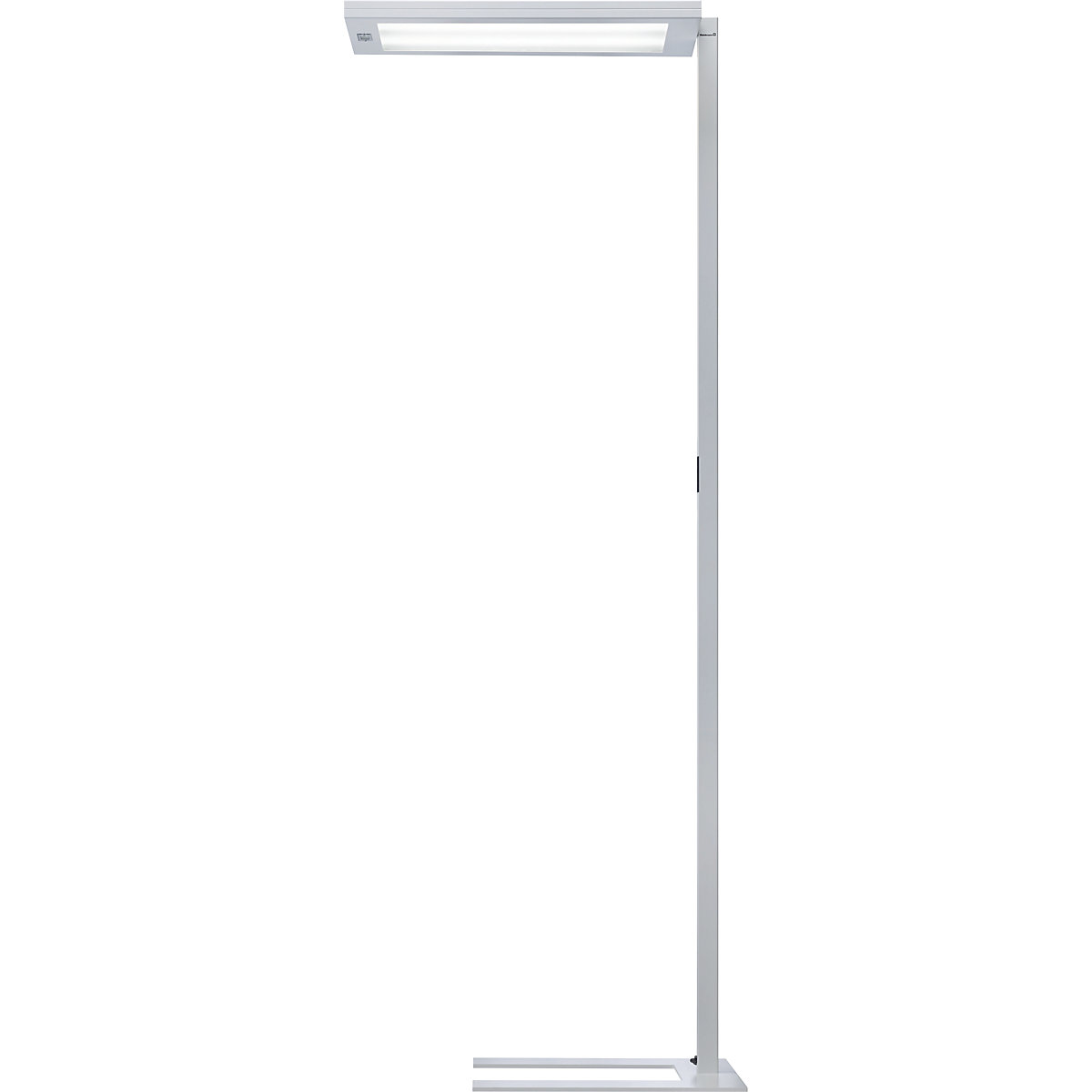 Ref.: 118261 49
Waldmann – LAVIGO LED floor lamp, 102 W, 14050 lm, white
Price / items (Excl. VAT)
Minimalistic design, maximum functionality. The floor lamp ensures perfect, efficient light at the workplace.
It's the straightforward forms that survive all fashions and are certain to retain their appeal in the future. This is why the design of the LED floor lamp is strictly limited to a rectangle. Designed by STRUCTURELAB Architects in Düsseldorf, it combines classic design with innovative technology.
The slim light head with a horizontal design seam represents elegance and lightness. The clear, reduced form lends the lamp a homogeneous overall appearance. This makes the floor lamp compatible with a large number of furniture systems, and the ideal lamp for offices of today.
Power level for the highest requirements in terms of light
Optimised ratio of direct to indirect light for uniform illumination of large calculation surfaces in accordance with regulations, ideal, for example, for the desktop of a shared workstation
Maximum energy efficiency due to the use of the latest LED technology
Glare control with light intensifying CDP microprisms incl. light forming technology
Easy to access, multifunctional control unit
Closed light head with cover
Suitable for future use due to LED light engines compliant with Zhaga standard
Large foot plate cut-out for optimal positioning at the workplace
Separate switching and dimming of direct and indirect light
Product type

floor lamps

Lamp base

pedestal base

Energy consumption

1100

kWh/1000h
Bulb

LED

Power

102

watt
Luminous colour

neutral white

Colour temperature

4000

K
Luminous flux

14050

lumen
Mains voltage

220 – 240 V / 50 – 60 Hz

Protection type

IP20

Colour

white

Feature

dimmable

Material

tubular steel, painted




plastic

Weight

19.7

kg
Lamp head dimensions

35.5 x 320 x 675

mm
Base dimensions

10 x 470 x 500

mm
Supplied

pre-assembled, final assembly by customer

Customers who purchased this item also purchased