EUROKRAFTpro – Premium whiteboard with designer frame
sheet steel, enamel
For very intensive use, durable, e3 certified and 99% recyclable
Magnetic work surface that can be written on and dry wiped
Can also be used as a projection surface with an ultra-short throw projector
The e3 enamelled surface is resistant to scratches and resistant to bacteria and chemicals

e3 environmental ceramic steel
– Board surface manufactured in an environmentally safe manner
– Proportion of heavy metals such as cadmium, lead, mercury less than 0.1%
– 99% recyclable

This label distinguishes products that meet particularly sustainable criteria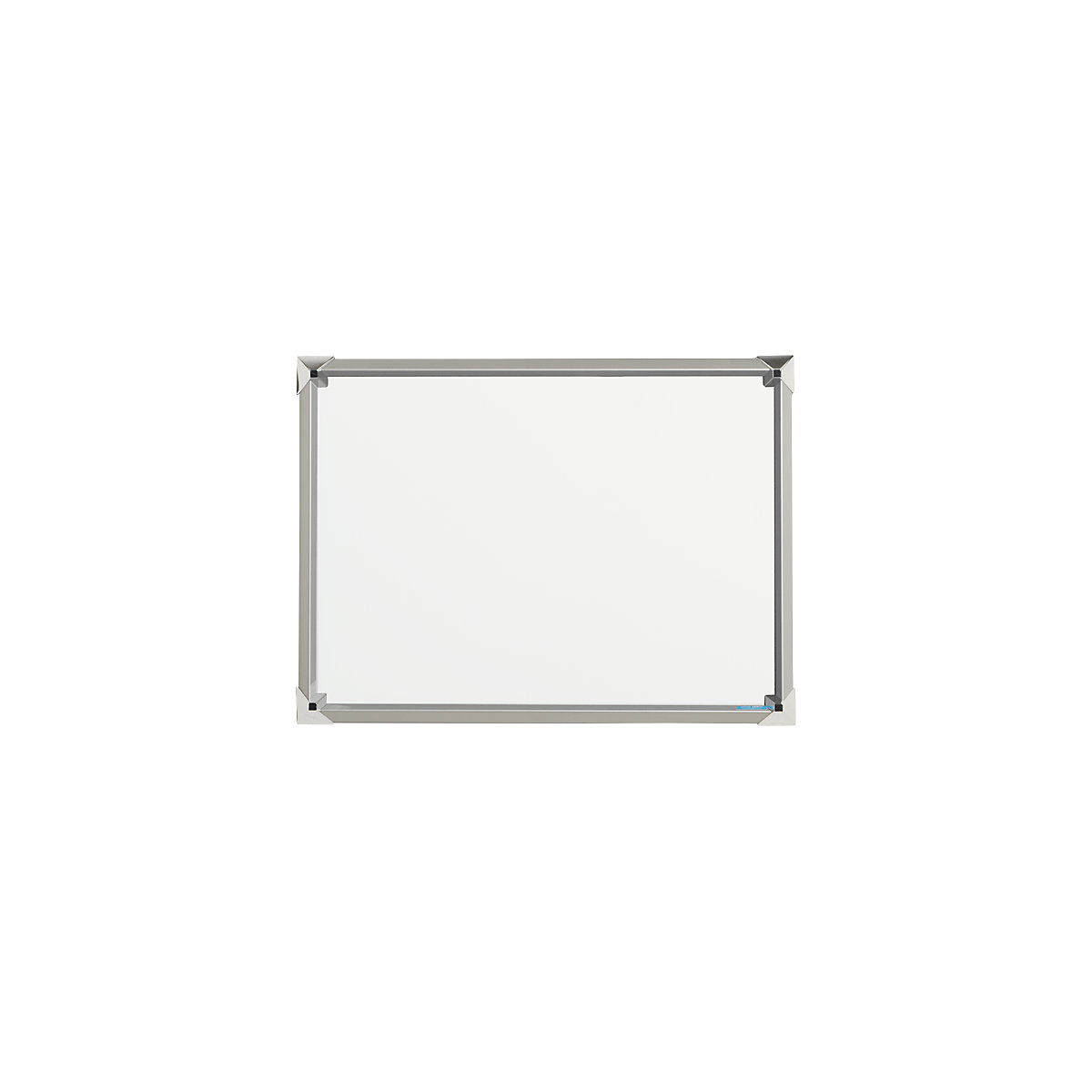 EUROKRAFTpro – Premium whiteboard with designer frame, sheet steel, enamel, WxH 600 x 450 mm, silver frame
Price / items (Excl. VAT)
Boards with three uses in one: can be written on, magnetic and serves as a projection surface.

The striking, bright chrome plated corners and the high quality aluminium frame give these boards a stylish and distinguished look.
Frame, 30 mm thick. Smooth, sheet steel surface, enamelled in white.
Can be written on with board markers, i.e. dry wipe felt pens. Papers, documents and notes are easily fixed in place with magnets.
Practical integrated pen tray included in delivery.
Extremely durable board surface due to the stoving of the enamel layer at approx. 800 °C.
Other enamelled surfaces (semi-matt/matt) for use with other projectors (short/long throw) or custom made models available on request.
For very intensive use, durable, e3 certified and 99% recyclable
Magnetic work surface that can be written on and dry wiped
Can also be used as a projection surface with an ultra-short throw projector
The e3 enamelled surface is resistant to scratches and resistant to bacteria and chemicals
e3 environmental ceramic steel
– Board surface manufactured in an environmentally safe manner
– Proportion of heavy metals such as cadmium, lead, mercury less than 0.1%
– 99% recyclable

This label distinguishes products that meet particularly sustainable criteria



Product type

notice board

Finish

steel, enamelled

Fittings

storage tray

Depth

39

mm
Frame thickness

30

mm
Material of writing board

steel, enamelled

Colour of writing board

white

Supplied

assembled

Customers who purchased this item also purchased