EUROKRAFTpro – Bolt-together storage shelving, zinc plated, medium duty
shelf unit height 2000 mm, shelf width 1000 mm
Medium duty loads
Cost effective storage of heavy and large items
High quality surfaces, zinc plated shelves and uprights

RAL quality seal: quality and inspection requirements for warehouse and workshop equipment (RAL-RG 614) defines recognised quality requirements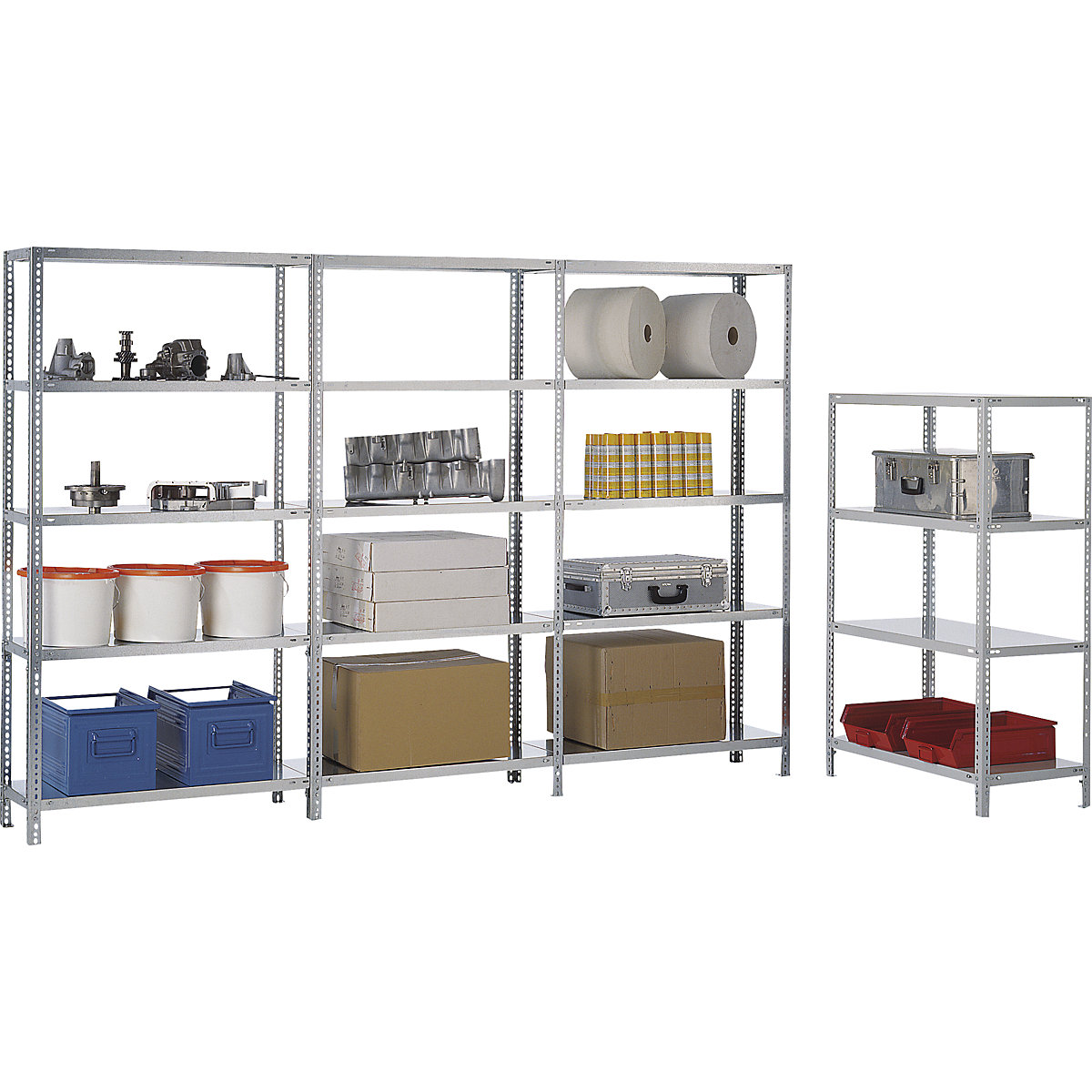 EUROKRAFTpro – Bolt-together storage shelving, zinc plated, medium duty, shelf unit height 2000 mm, shelf width 1000 mm, depth 300 mm, extension shelf unit
Uprights
With angled footplate. Shelf height adjustable in increments of 25 mm.

Shelves
1000 mm wide, with 3-fold safety edges on all sides, 40 mm high.
If the height of the shelf unit equals more than 5 times its depth, it must be secured against tipping with suitable floor or wall fasteners.
The specified max. load values are applicable with uniform load distribution. Additional shelves may be used if the specified max. bay load is observed.
Rear and side wall panelling, compartment divider, bin inserts, etc. available on request.
Medium duty loads
Cost effective storage of heavy and large items
High quality surfaces, zinc plated shelves and uprights
RAL quality seal: quality and inspection requirements for warehouse and workshop equipment (RAL-RG 614) defines recognised quality requirements


Shelf unit height

2000

mm
Colour

zinc plated

Number of shelves

5

pcs.
Shelf width

1000

mm
Max. shelf load

200

kg
Max. bay load

1000

kg
Finish

zinc plated

Material

steel

Place of use

indoor use

Supplied

flat pack

Customers who purchased this item also purchased