EUROKRAFTpro – Drive-in shelving unit
shelf unit depth 1740 mm, 2 pallets deep
Drive-in shelves
Maximum storage capacity in minimum room volumes: saves up to 90 % of space compared to standard pallet rack storage
The advantages of pallet rack storage can be combined with those of block storage
For storage of pallets and containers with larger quantities of identical items
Centring aids on the brackets, and the positioning aids with their integrated upright protection ensure safety when driving in
No top load pressure on the bottom pallets
Pallet weight up to 800 kg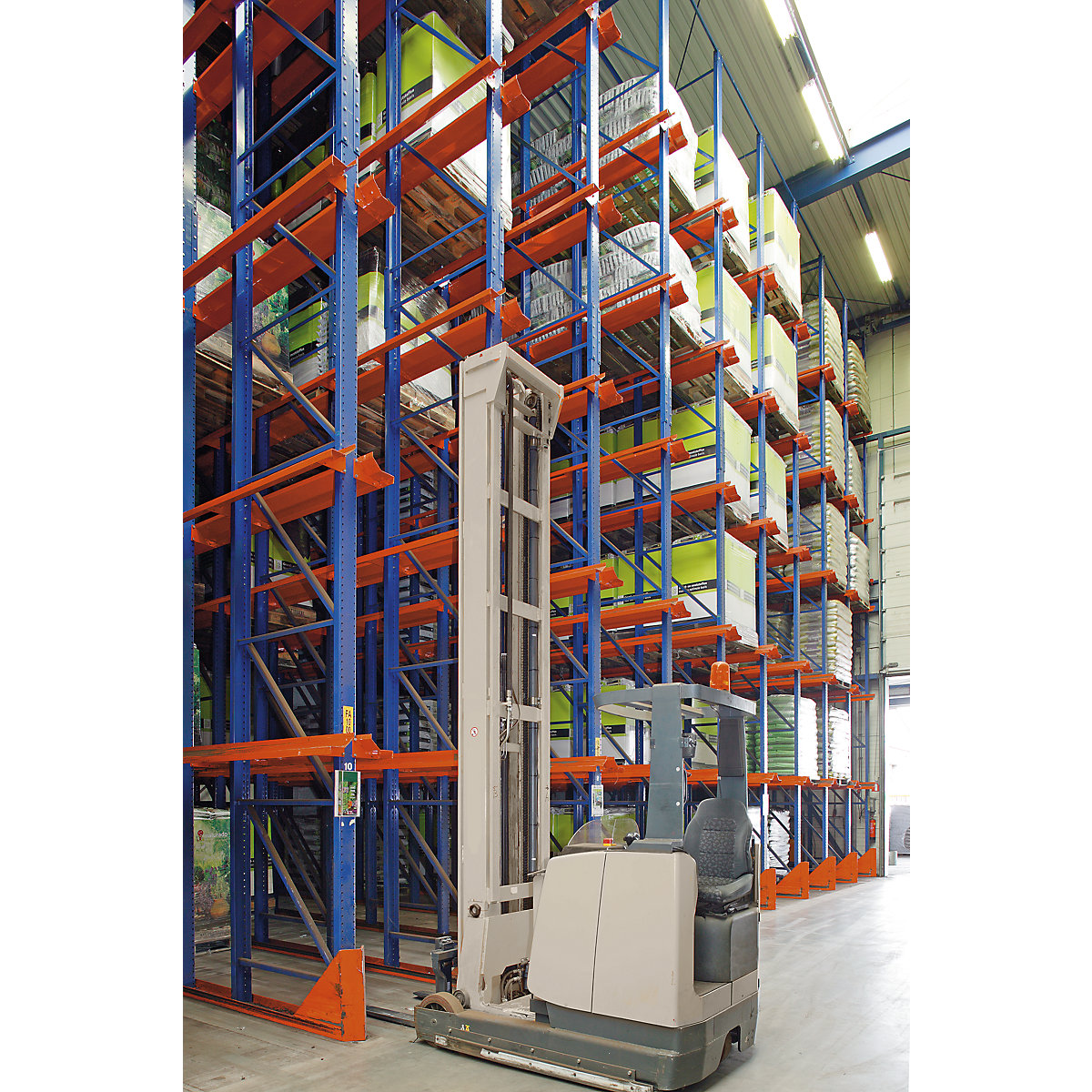 EUROKRAFTpro – Drive-in shelving unit, shelf unit depth 1740 mm, 2 pallets deep, extension channel, uprights and brackets are zinc plated
Price / items (Excl. VAT)
Several loading units provide storage on two continuous back-to-back support panels in the shelf unit depth: the shelf access devices can drive into the shelf bays. The shelf units must stand on firm ground.

Supplied with base and extension channels
Base channel incl. additional braces.

Minimum assembly
1 base channel and 1 extension channel.
Shelving unit height 5217 mm, for double-stacked pallets (1 x floor storage and 1 x bracket storage).

Width x depth 1200 x 800 mm, height up to 2400 mm.

Additional braces
Crossways, lengthways and depth braces are installed across 2 adjacent channels. They are used to reinforce the drive-in channel.
Required for every base channel and every 5th extension channel.
Each base channel is supplier with additional braces. The additional braces must be ordered and installed separately for every 5th extension channel.

Support frames
Heavy duty support frames and legs made of 80 mm wide, cold-rolled special profile. With hole adjustment grid of 50:50 mm. This allows the brackets to be adapted optimally to the height of the stored goods. Support frames must be bolted into the warehouse floor.
Including warehouse floor mounting material for a warehouse floor with a minimum concrete quality of C 20 / 25.
When floor conditions differ, we will need to examine whether assembly is possible – please enquire!

Brackets
With push-through stops and practical centring aid in a left hand and right hand version.
Please observe the requirements for suitable stackers.
Please order the matching floor push-through stops and positioning aids separately.
All specified max. loads apply with uniform load distribution.
On request, other versions can be supplied that fulfil your storage requirements.
The version of a drive-in shelf is determined by the requirements for
– the number of stacked pallets (observe room height)
– the number of back-to-back pallets
– the number of adjacent channels
Assembly as a base and extension unit, meaning one base channel and the required number of extension channels.
The pallets to be stored can weigh up to 800 kg with a pallet width of 1200 mm and a variable pallet depth.
The components are delivered individually and are bolted together by the customer.
If the pallet racking is put up in an earthquake zone, custom made models in custom dimensions must be requested and delivered.
Drive-in shelves
Maximum storage capacity in minimum room volumes: saves up to 90 % of space compared to standard pallet rack storage
The advantages of pallet rack storage can be combined with those of block storage
For storage of pallets and containers with larger quantities of identical items
Centring aids on the brackets, and the positioning aids with their integrated upright protection ensure safety when driving in
No top load pressure on the bottom pallets
Pallet weight up to 800 kg

Max. shelf load

1600

kg
Overall height

5217

mm
Overall depth

1740

mm
Shelf unit depth

1740

mm
Clear width

1390

mm
Model

2 pallets deep

Product type

pallet racking

Supplied

flat pack

Customers who purchased this item also purchased