QUIPO – Steel/PE hazardous goods storage depot
for 4 x 200 l drums, capacity 410 l
For indoor and outdoor storage of corrosive and water hazardous liquids in accordance with regulations
Hybrid combining a PE sump tray and sheet steel storage depot: sturdy, durable sheet steel construction with chemical and weather resistant PE sump tray
Convenient internal dimensions – drums can be stored and handles with a pump, funnel etc. installed
Integrated PE sump tray with PE grate and DIBt approval
Includes a free kit for spillage emergencies
Ventilated, lockable sheet steel construction

Resistant to aggressive, corrosive chemicals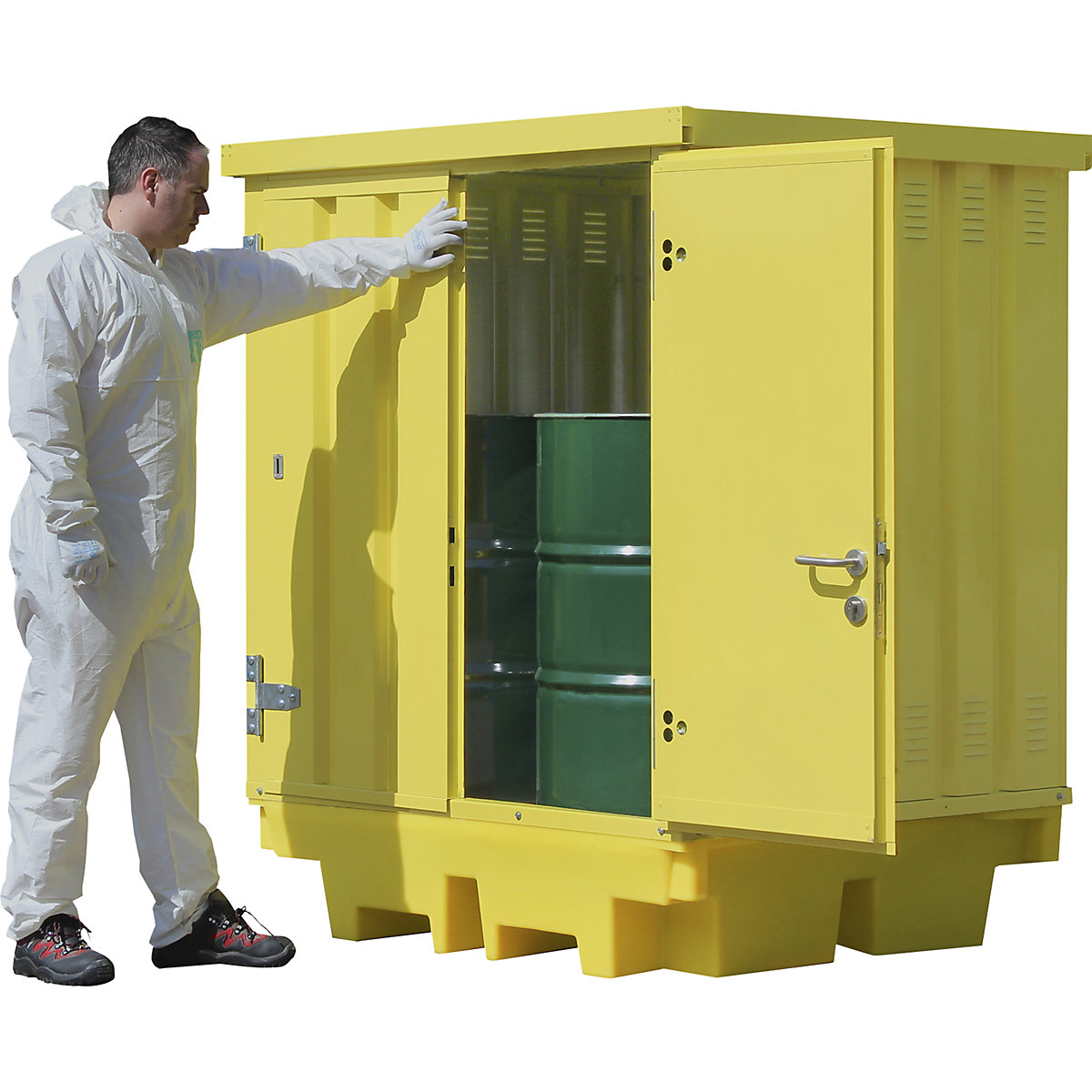 Ref.: 547007 49
QUIPO – Steel/PE hazardous goods storage depot, for 4 x 200 l drums, capacity 410 l, HxWxD 1865 x 1385 x 1480 mm
The storage depot combines the advantages of the materials sheet steel and polyethylene in one product:

Integrated PE sump tray with PE mesh grid.
With general certification from the DIBt (German Institute for Construction Technology), Berlin.
Robust, non corroding, UV resistant, weather and chemical resistant construction made of polyethylene.

Storage depot construction made of zinc plated, powder coated sheet steel.
Ventilation slots at the side for effective natural ventilation. Roof with channels at the side for optimal water drainage.

The storage depot can be accessed from four sides with forklift or pallet truck.

QUIPO exclusive including free kit for spillage emergencies.
Contents: 1 absorbent sock Ø 75 mm x 1.2 m, 3 basic absorbent sheets, 2 cleaning cloths, 1 pair of gloves. Binds 10 litres.

Delivered fully assembled.

Door version:
Hinged doors that can be locked with a cylinder lock, and with an integrated latch and door locking bars for easy storage and removal.
Storage capacity:
For regulation compliant storage of 4 x 200 litre drums, 60 litre drums or small containers with corrosive and water hazardous liquids indoors and outdoors.
For indoor and outdoor storage of corrosive and water hazardous liquids in accordance with regulations
Hybrid combining a PE sump tray and sheet steel storage depot: sturdy, durable sheet steel construction with chemical and weather resistant PE sump tray
Convenient internal dimensions – drums can be stored and handles with a pump, funnel etc. installed
Integrated PE sump tray with PE grate and DIBt approval
Includes a free kit for spillage emergencies
Ventilated, lockable sheet steel construction
Resistant to aggressive, corrosive chemicals



For water hazardous liquids

External height

1865

mm
External width

1385

mm
External depth

1480

mm
Drum capacity

4 x 200 l

Sump capacity

410

l
Colour

yellow

Finish

zinc plated and painted

Test symbol

with general certification from the DIBt (German Institute for Construction Technology) Berlin

Material

polyethylene




steel

Lock type

cylinder lock

Internal height

1400

mm
Internal width

1250

mm
Internal depth

1350

mm
Door type

2 hinged doors

Clearance height

90

mm
Place of use

indoor and outdoor use

Weight

221

kg
Max. load

1250

kg
Supplied

assembled

Customers who purchased this item also purchased