Folding sump tray
made of PVC
Compact, lightweight, versatile – for fast, flexible use
Quick and easy to assemble – aluminium bracket for high stability
Very robust – highly resistant to oil, corrosive chemicals, abrasion and puncturing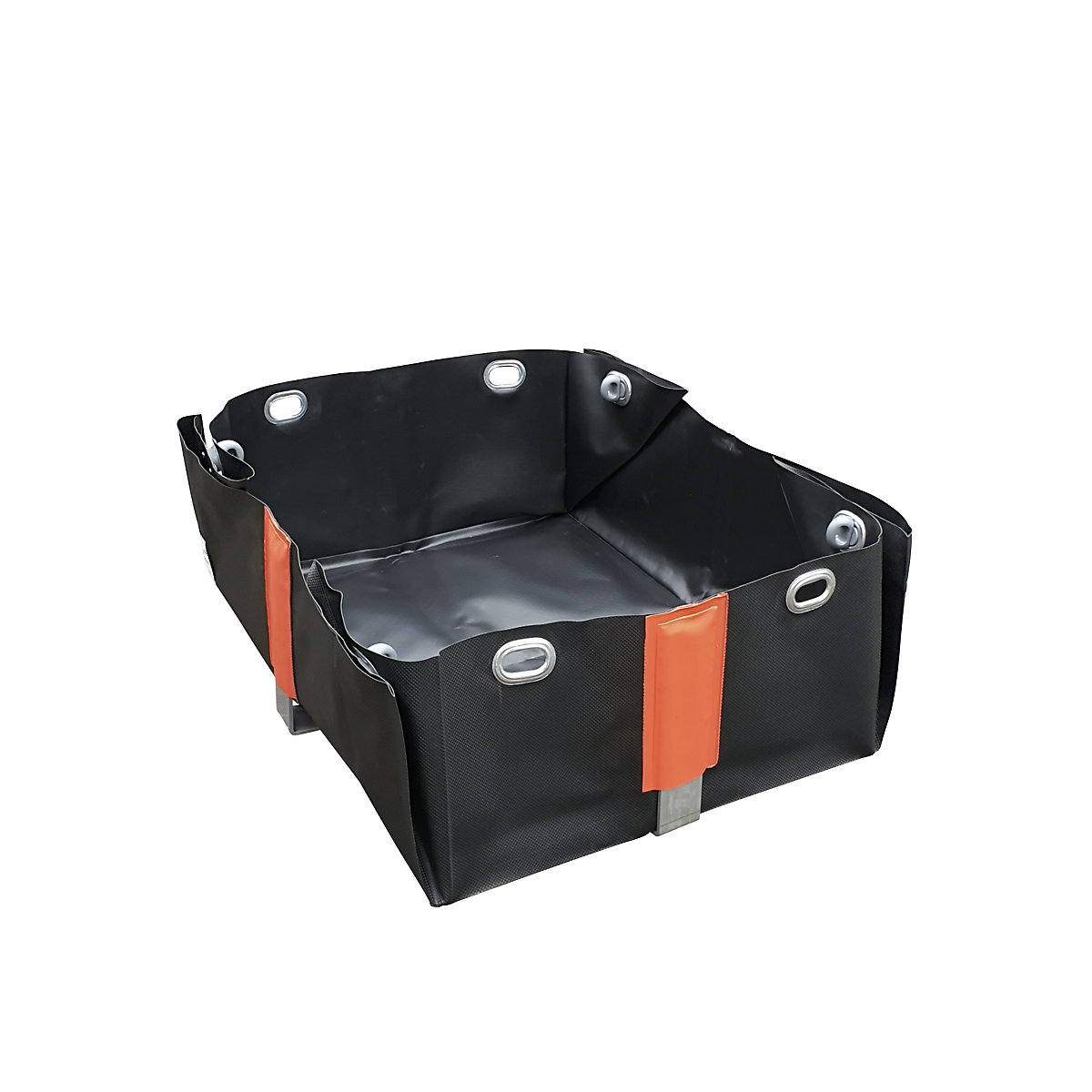 Folding sump tray, made of PVC, collection capacity 75 l, 5+ items
Price / items (Excl. VAT)
Universal folding tray made of extremely robust, oil and chemical resistant, leak-proof PVC material.

Quick and easy to assemble:
Unfold the tray, insert the aluminium brackets into the pockets provided for them, fold over the sides and close the lock in seconds with the rotary lock connectors.
No tools are required for assembly.

Rigid aluminium brackets ensure high tray stability.
Brackets are easy to remove to fold out the sides.


Trays can be walked on – larger trays can be driven onto through the open sides, e.g. by a drum truck, pallet truck, stacker, lorry etc.
This makes the trays easy to load and unload.

The aluminium brackets turn inwards to save space.
The brackets can also be optionally turned outwards and the tray can be anchored in the floor (bolts/floor anchors are not included).

Suitable for use in indoor and outdoor areas.

The folded tray comes in a practical transport bag with shoulder strap, allowing it to be transported quickly and comfortably to the place of use (only for size 75 litres to 1750 litres).
For large, heavy trays (size 3750 – 9750 litres), the universal storage containers or the storage and transport containers with castors (accessories) are recommended.

Optionally, the protective liner tarp for folding trays (accessory) can be used. This protects the base of the tray from the inside when used intensively.
When using the tray on stony ground, sharp edges, etc., the protective underlay tarp for folding trays (accessory) is recommended. This protects the folding tray from below and can be replaced if necessary.
Please include any accessories with your order.
Please note: custom made models for specific requirements (individual dimensions) are absolutely no problem – please enquire.
Compact, lightweight, versatile – for fast, flexible use
Quick and easy to assemble – aluminium bracket for high stability
Very robust – highly resistant to oil, corrosive chemicals, abrasion and puncturing
Height

250

mm
Material

PVC

Colour

black

Design of sump tray

folding

Material thickness

1

mm
Feature

washable




folding




mobile




heavy duty

Certification

without

Supplied

flat pack
Customers who purchased this item also purchased