EUROKRAFTpro – Platform truck with wooden panels
with 4 half height side panels and compact electronic module
Efficient goods transport
Move heavy loads with ease
Practical and versatile
Radio controlled, two speeds in both directions:
– forwards up to 5 km/h
– reverse up to 3.5 km/h
Driving time approx. 2 – 4 hours depending on load
Parking brake and emergency off switch
Overload protection
In accordance with machine design guidelines

This label distinguishes products that meet particularly sustainable criteria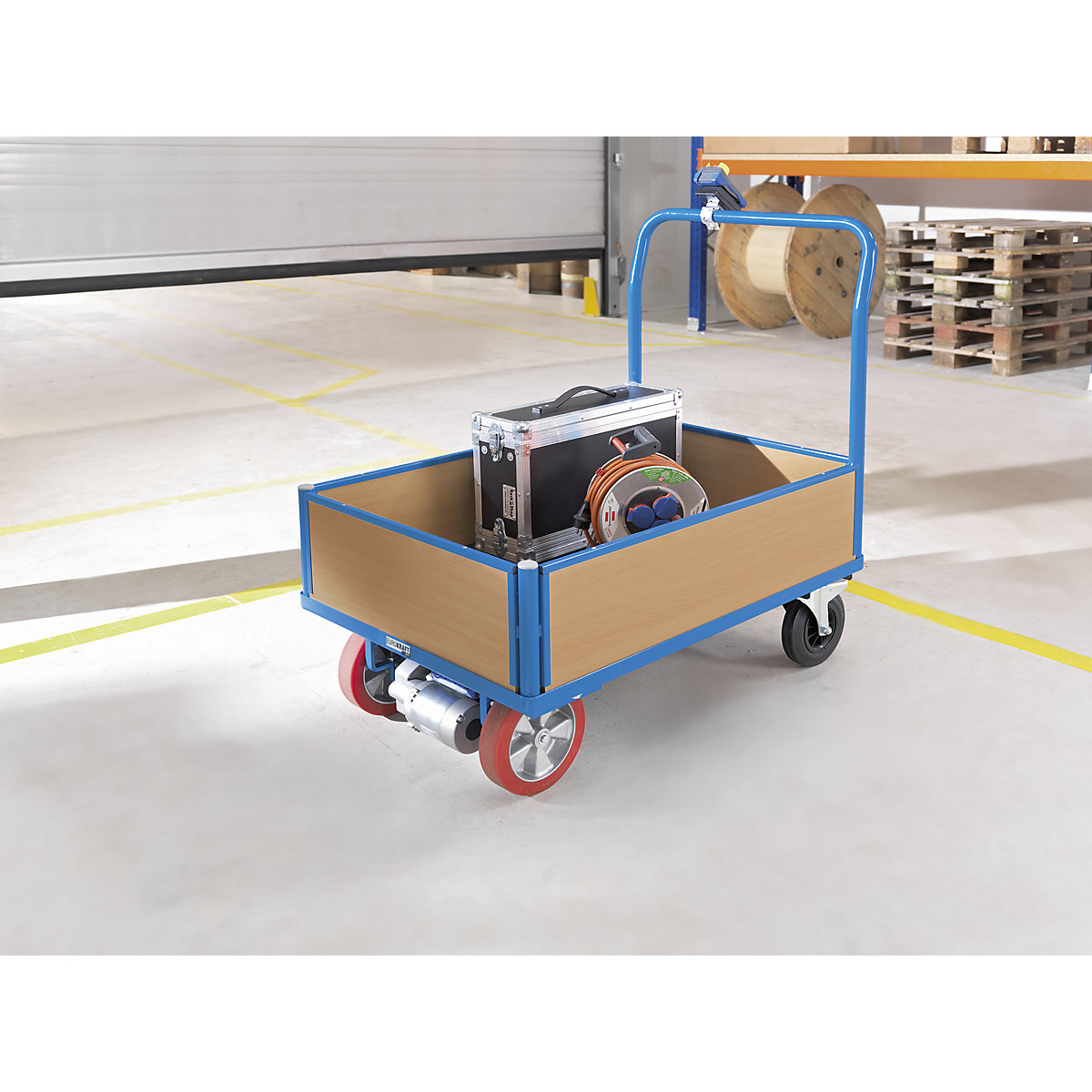 EUROKRAFTpro – Platform truck with wooden panels, with 4 half height side panels and compact electronic module, LxW 1050 x 700 mm, solid rubber tyres
Welded steel construction. Powder coated as standard in light blue RAL 5012.
Platform height 280 mm. Push handle height 1100 mm.

Platform (registered design)
Recycled plastic with non-slip and hardwearing surface. Weather resistant, oil resistant and largely acid-proof. Recyclable.

Side panels
MDF panels, décor finish. Side panels can be removed separately.

Wheels
2 swivel castors and 2 fixed castors. Swivel castors with double stops to EN 1757-3 as standard.
Solid rubber tyres, wheel Ø 200 mm. Pneumatic tyres, wheel Ø 210 mm.

With compact electronic module.
Efficient goods transport
Move heavy loads with ease
Practical and versatile
Radio controlled, two speeds in both directions:
– forwards up to 5 km/h
– reverse up to 3.5 km/h
Driving time approx. 2 – 4 hours depending on load
Parking brake and emergency off switch
Overload protection
In accordance with machine design guidelines
This label distinguishes products that meet particularly sustainable criteria




Max. load

500

kg
Fittings

4 half-height panels, electric module

Platform length

1050

mm
Platform width

700

mm
Loading height

280

mm
Length

1050

mm
Width

700

mm
Height

1100

mm
Push handle height

1100

mm
Weight

66

kg
Wheel type

solid rubber tyres

Wheel diameter

200

mm
Wheel bearing

roller bearing

Wheel fittings

2 swivel castors with double stops, 2 fixed castors

Frame colour

light blue RAL 5012

Platform material

plastic

Push handle material

steel, powder coated

Push handle version

rigid

Frame material

steel, powder coated

Panel height

250

mm
Supplied

assembled

Customers who purchased this item also purchased
Together we are strong: Helpful information about this product.