3M – Disposable protective suit 4510 (Type 5/6)
white, pack of 5
Made of a soft, lightweight non-woven fabric with microporous laminate for splash protection, strength and actively breathing properties
Certified protection against hazardous dust and liquid splashes to a limited extent (type 5/6)
Protection against biological agents according to EN 14126
Antistatic coating EN 1149-5 reduces static discharges and the risk of sparks forming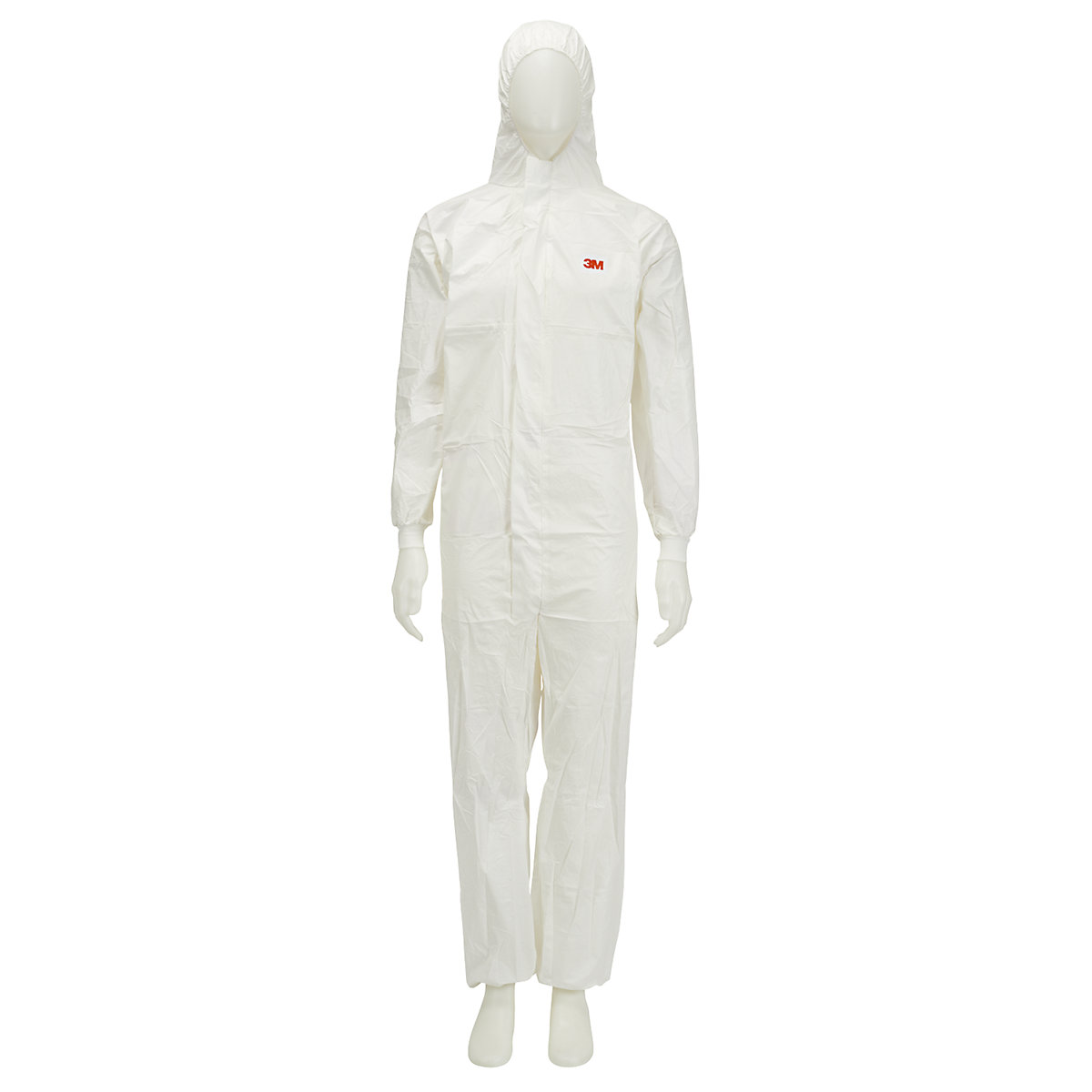 3M – Disposable protective suit 4510 (Type 5/6), white, pack of 5, size 2XL
The lightweight, antistatic 3M™ protective suit 4510 is made of high quality, microporous coated material. This soft spunbonded polypropylene has been additionally equipped with a layer of polyethylene laminate. The suit thus offers protection against hazardous dusts (type 5), light splashes of liquid (type 6) and radioactive, contaminated particles (EN 1073-2:2002).
Elastic inserts at the hips, ankles and wrists ensure a comfortable fit and improve the wearer's freedom of movement.
The two-way zip with detachable flap offers additional protection.
The protective suit has an antistatic finish on both sides (EN 1149-5:2008) and is low linting thanks to its special material.
The areas of application of the 3M™ protective suit 4510 / TYPE 5/6 are in asbestos inspection, insulation work, asbestos disposal, cement production, grinding and polishing, light industrial cleaning, machine maintenance, paint spraying and coating, clean room applications and work in the pharmaceutical industry. It is white in colour.
2-part hood, 2-way zip with flap with elastic openings for a lower risk of skin exposure.
Made of a soft, lightweight non-woven fabric with microporous laminate for splash protection, strength and actively breathing properties
Certified protection against hazardous dust and liquid splashes to a limited extent (type 5/6)
Protection against biological agents according to EN 14126
Antistatic coating EN 1149-5 reduces static discharges and the risk of sparks forming
Surface material

polyethylene




polypropylene

Colour

white

Conforms to

EN 13034:2005 + A1:2009, EN 1149-5:2008, EN 1073-2:2002, EN ISO 13982-1:2004

Product type

disposable clothing

Supplied

assembled

Customers who purchased this item also purchased