IDEAL – Document shredder 2604
collection capacity 100 l
SPS safety package (Safety Protection System) – patented, electronically controlled safety guard, automatic reverse with automatic shutdown (prevents paper jams), auto shutdown when shredded paper collector is full, electric door locking via magnetic switch, double fused motor, automatically shuts off completely after 15 minutes in stand-by mode
With a particularly high performance 640 W motor for continuous operation and patented ECC capacity indicator – display of available capacity while shredding
EASY-SWITCH multifunction switch uses colour signals and illuminated symbols to guide the user, automatic start/stop via infrared barrier
All steel blade shafts for a long service life
Collection container made of impact resistant plastic, can be used with or without disposable plastic sacks
Energy saving drive mechanism
Wooden base units with swivel castors
Main office shredder, e.g. next to the copier

Lifelong guarantee on the blade shafts

This label distinguishes products that meet particularly sustainable criteria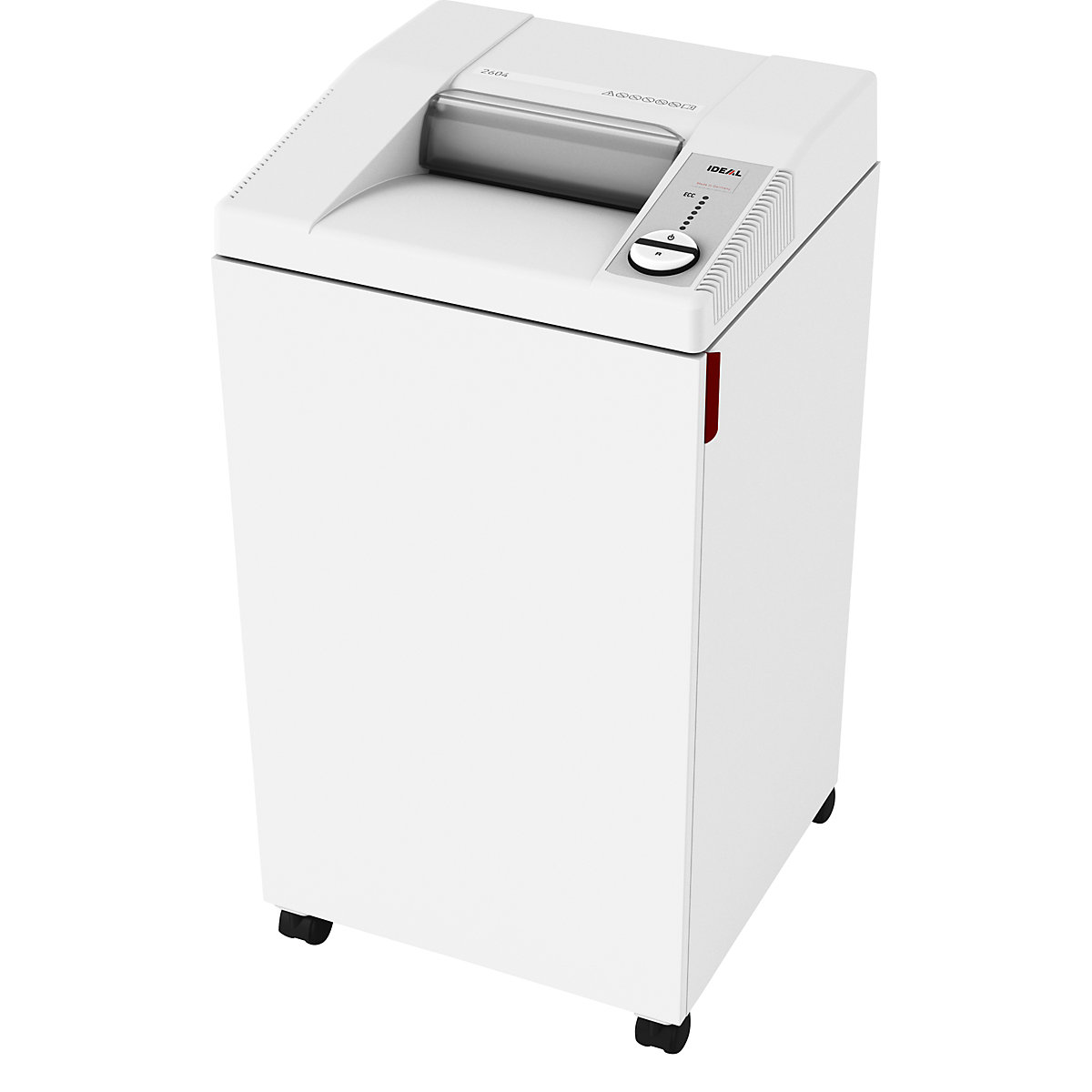 undefined, undefined, undefined
Document shredders with SPS offer the maximum level of safety available.
Equipped with all automatic functions, user friendly thanks to the innovative EASY-SWITCH.
With a particularly high performance 640 W motor for continuous operation and patented ECC capacity indicator.

With patented ECC (Electronic Capacity Control)
– Displays available capacity whilst shredding.
10 year guarantee on the blade shafts (provided use is as intended).
More powerful devices and higher security levels available on request.
SPS safety package (Safety Protection System) – patented, electronically controlled safety guard, automatic reverse with automatic shutdown (prevents paper jams), auto shutdown when shredded paper collector is full, electric door locking via magnetic switch, double fused motor, automatically shuts off completely after 15 minutes in stand-by mode
With a particularly high performance 640 W motor for continuous operation and patented ECC capacity indicator – display of available capacity while shredding
EASY-SWITCH multifunction switch uses colour signals and illuminated symbols to guide the user, automatic start/stop via infrared barrier
All steel blade shafts for a long service life
Collection container made of impact resistant plastic, can be used with or without disposable plastic sacks
Energy saving drive mechanism
Wooden base units with swivel castors
Main office shredder, e.g. next to the copier
Lifelong guarantee on the blade shafts

This label distinguishes products that meet particularly sustainable criteria


Collection capacity

100

l
Working width

260

mm
Height

926

mm
Width

495

mm
Depth

470

mm
Colour

cool grey

Voltage

230

V
Motor power at full cutting capacity

640

watt
Noise level

52

dB(A)
Mains voltage

230 V / 50 Hz

Supplied

assembled

Customers who purchased this item also purchased