Products according to your wishes
We fulfil every wish – from special manufacture to special paintwork in almost any RAL colour, to special dimensions, special equipment, special models ... and much more. The "special paint finish" is offered in the webshop with the corresponding products and can be placed directly in the shopping cart.*
So pick up the phone if the round peg does not fit into the square hole. You can reach our service via the following telephone number: 01442 238000. Or by e-mail: sales@kaiserkraft.co.uk
Custom models
From your special request to the desired product
Too high, too short, too long, too blue, too large, too… the dimensions, colours or model in which products are available aren't always suitable or aren't always what you want. This is why we encourage you to come straight to us in situations like this. Satisfying special requirements is one of our standard services. Custom designs, custom made models, custom colours, custom dimensions and custom features... Do you want them? You'll get them! Made to measure for your company is a part of our service: our sales team will help us find a specific solution that suits your special requirements. Depending on the requirements, this can sometimes take longer or can be very fast. So if you have a preferred delivery date, please contact us right away with your desired timing.

Example colours for special paint finishes
Project examples
Special designs that inspire us.
Black corridors, hygiene locks and forced guidance?
Strict hygiene regulations apply to the food manufacturer Zott. To achieve this, we have completely rethought the room concept.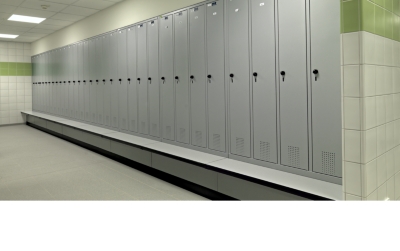 With 80,000 products don't be surprised that the item you want can't be found in our catalogue or webshop straight away. Here's where we're happy to help you… and are guaranteed to find what you need.
We'll even find a solution for you when it comes to items that we don't have in stock, despite our seemingly inexhaustible product range. We will procure the item you require from anywhere in Europe. Of course, you can always consult our procurement service when you need help with complex or difficult matters. Our experts will always ensure that you get exactly what you need.
Is there anything we can do for you today?
*Please note that special items are excluded from the right of return.