Mobile universal partition
with cover
For first aid, fire protection products, absorbent agents, protective equipment, documents, information and advertising material, etc.
Individual attachment of the products and information to the plastic panel
Consumables can be stored in the container
Integrated wheels and ergonomic handles for easy transport
Suitable for indoor and outdoor areas – made of robust PE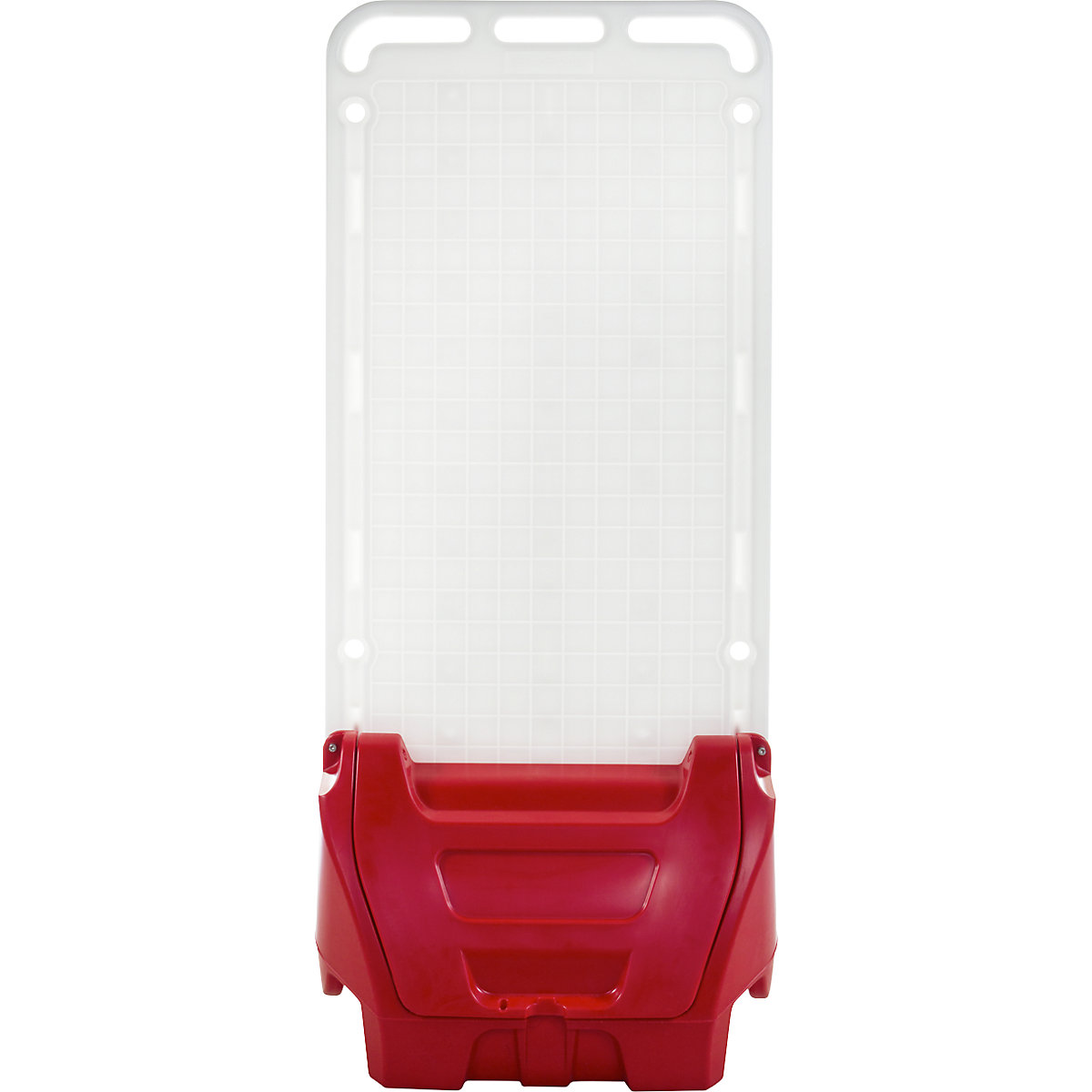 Mobile universal partition, with cover, blue, 5+ items
Mobile, versatile, individually configurable stand. Always on-site – exactly where it is needed.
Ideal for attaching first aid, fire protection and absorbent agent products, personal protective equipment, disinfection agent dispensers, document boxes, and also for information and advertising material etc.
Consumables or ballast can be stored in the container.

Robust construction made of highly resistant, UV stabilised, fully recyclable polyethylene (MDPE).
Integrated rubber wheels (Ø 200 mm). Board surface 1060 x 580 mm.

A maximum of 8 kg per side can be attached to the panel (products, consumables etc.).
Please use self-tapping screws for wall mounting. For heavy objects, drill right through the panel.

Under certain circumstances, it may be necessary to weigh it down with ballast such as sandbags (for additional stabilisation).
3 anchorage points in the base for floor anchoring.

Accessible on 2 sides with conventional stackers. Can be moved by crane. Stackable for easy transport. Easy to clean.
Easy assembly and disassembly.

Container (for consumables, ballast etc.) with cover (without a rubber seal and latch).
For first aid, fire protection products, absorbent agents, protective equipment, documents, information and advertising material, etc.
Individual attachment of the products and information to the plastic panel
Consumables can be stored in the container
Integrated wheels and ergonomic handles for easy transport
Suitable for indoor and outdoor areas – made of robust PE
Height

1725

mm
Width

755

mm
Depth

595

mm
Material

polyethylene

Type of mounting

self-tapping screws

Supplied

assembled
Customers who purchased this item also purchased