QUIPO – Spillage emergency kit
in a safety drum, absorption 75 l
Fast, effective containment and absorption of leaked or spilled hazardous substances, leakages, etc.
Absorbent agent for emergencies and for preventative use – mobile, flexible, ready to use in no time
Used absorbent agents can be transported and disposed of directly in a certified UN safety drum
A screw on lid that is easy to remove keeps the content dry and clean – and allows fast access to the content
Optimal combination of absorbent agents comprised of absorbent sheeting and absorbent granulate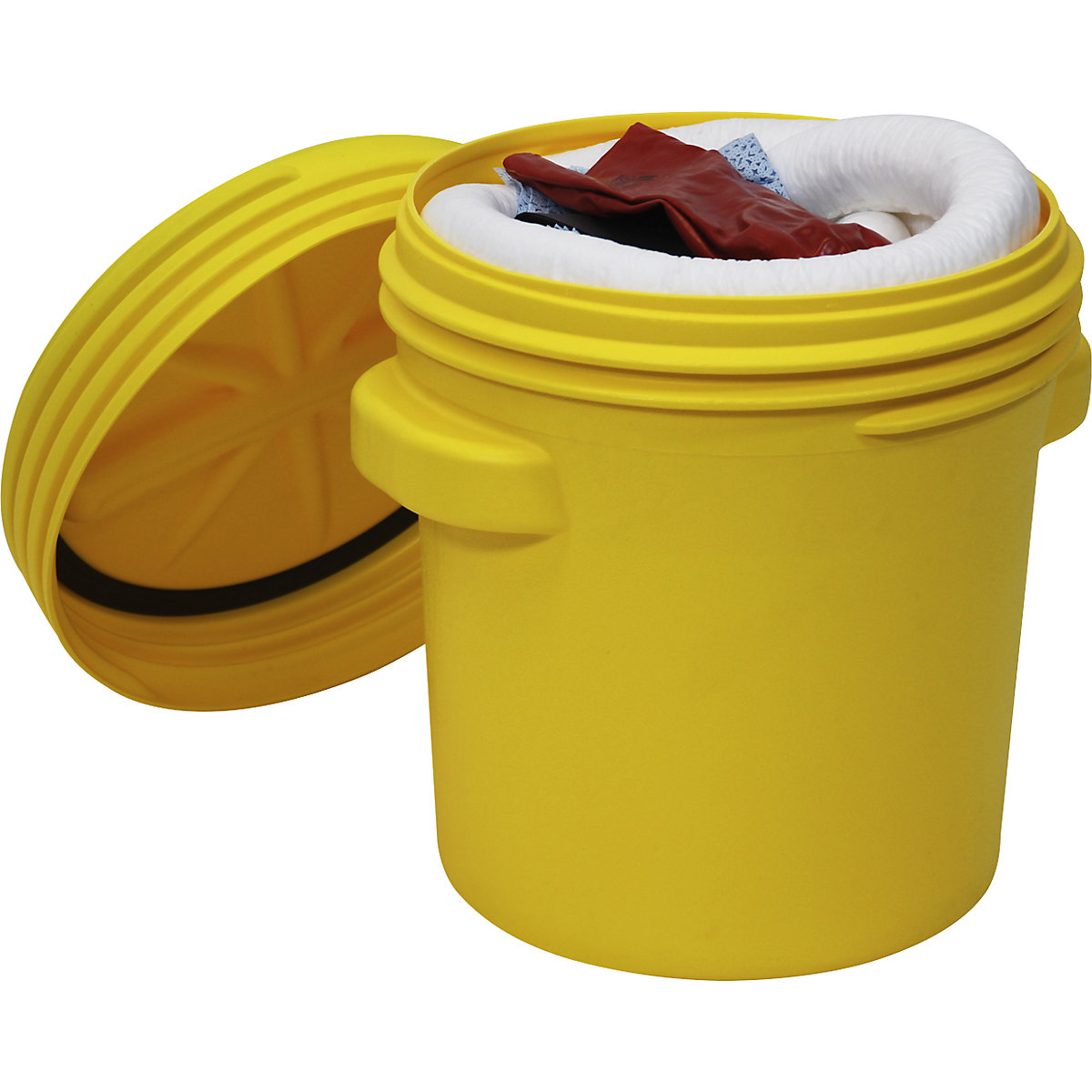 QUIPO – Spillage emergency kit, in a safety drum, absorption 75 l, oil version, white, 5+ items
Oil version (blue for indoor areas or white for indoor and outdoor areas)
For oil, petrol, diesel etc.
Water repellent, floats on water. Ideal for separating oil and water.
Universal version (grey)
For coolants, solvents, lubricants, paints, oils, water, weak chemicals etc. (absorbs all liquids).
Chemical version (warning colour yellow)
For acids, alkaline solutions, corrosive media, alcohol etc.

Absorbent agents in PE safety drum with UN coding, screw on lid with rubber seal, capacity 114 litres.
With UN approval 1H2/X57/S. Made of yellow polyethylene (HDPE) with UV inhibitors.
Highly resistant to acids, alkaline solutions and many corrosive liquids.

Contents:
35 absorbent sheets 400 x 500 mm
3 absorbent socks Ø 75 mm x 1.2 m
1 absorbent sock Ø 75 mm x 3.0 m
2 absorbent cushions 400 x 400 mm
1 x 2.3 kg bucket (5 litres) of universal absorbent agent granulate, type III R fine (grain size 0.6 – 1.2 mm)
10 cleaning cloths
3 disposal sacks
1 pair of gloves

QUIPO exclusive including free 2.3 kg bucket (5 litres) of universal absorbent granulate, type III R fine grain, for porous traffic surfaces/asphalt. Binds approx. 5 litres.
Fast, effective containment and absorption of leaked or spilled hazardous substances, leakages, etc.
Absorbent agent for emergencies and for preventative use – mobile, flexible, ready to use in no time
Used absorbent agents can be transported and disposed of directly in a certified UN safety drum
A screw on lid that is easy to remove keeps the content dry and clean – and allows fast access to the content
Optimal combination of absorbent agents comprised of absorbent sheeting and absorbent granulate

Scope of delivery

UN safety drum, screw on lid, 35 absorbent sheets 400 x 500 mm, 3 absorbent socks Ø 75 mm x 1.2 m, 1 absorbent sock Ø 75 mm x 3.0 m, 2 absorbent cushions 400 x 400 mm, 10 cleaning cloths, 3 disposal sacks, 1 pair of gloves

Length

520

mm
Width

430

mm
Height

530

mm
Absorption

75

l/pack
Material

polyethylene (low pressure PE / HDPE)




polypropylene

Situation

reaction to leaks (emergency)

Property

absorbent / soaking up

Type of leakage

spilling




drip leaks




surface leaks

Frequency of use

single

Application

normal

Supplied

assembled

Information on absorbent agents and spillage management products

(DE)

Customers who purchased this item also purchased