Chameleon – VisuWall designer XXL whiteboard
HxW 1980 x 3920 mm
The panels give you an almost seamless working and writing surface of up to 5 metres
Elegant design with rounded corners and edges painted black
High quality, scratch resistant board surface made of enamelled steel, magnetic, can be written on and dry wiped
Easy and flexible assembly system using magnetic squares
Ideal for communication and meeting areas, think-tank spaces, training and workshop rooms, educational facilities, laboratories
Lifetime guarantee on the board surface (write and wipe guarantee)

This label distinguishes products that meet particularly sustainable criteria

FSC – the symbol for responsible forestry management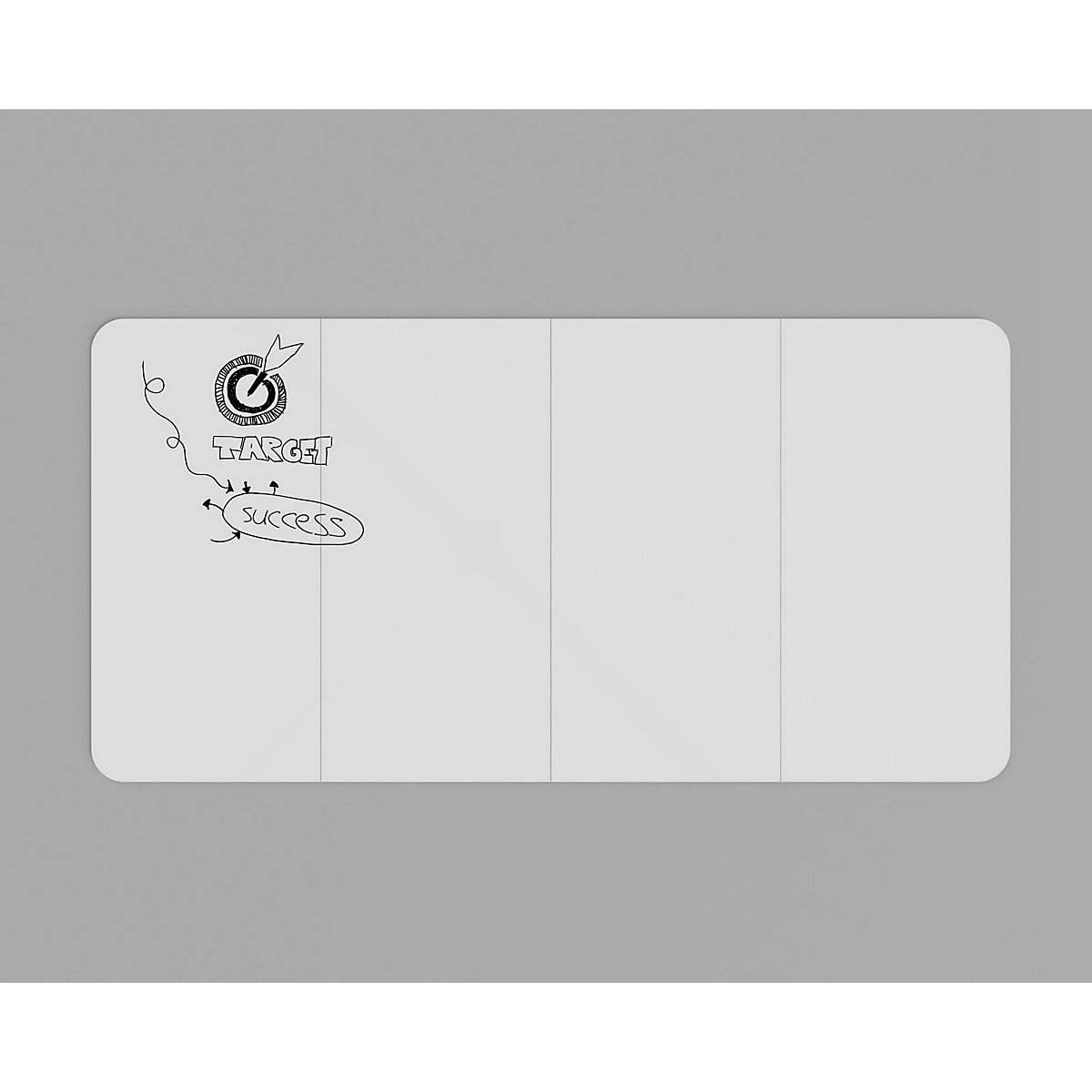 Chameleon – VisuWall designer XXL whiteboard, HxW 1980 x 3920 mm, white
Price / items (Excl. VAT)
Regardless of whether you'd like to quickly visualise something in a meeting, such as showing how database X is connected to system Y, or if you'd like to collect a few ideas from your colleagues about a complicated topic, you'll have to work hard filling up this oversized whiteboard in an XXL format before you run out of space for your ideas, plans and projects. In addition, it is a real eyecatcher, as the designer panel with rounded corners and edges painted black makes even a bleak office wall in meeting areas, think tanks, workshops, etc. much more attractive.
The slim 10 mm board with a solid core comes in three sizes and features a high quality, magnetic, scratch resistant surface made of enamelled steel which can be dry wiped. The XXL whiteboard is also a premium product when it comes to assembly, flexibility and extendability, as the magnetic squares (30 x 30 cm) supplied with it are bolted to the wall, allowing individual panels to be fixed to the wall and be aligned without any great effort. The number of magnetic squares supplied is based on the size of the respective whiteboard (3 – 5 panels).
Lifetime guarantee on the board surface (write and wipe guarantee) due to stoving of the enamel coating at approx. 800 °C. Custom dimensions exact to the cm and boards individually printed in accordance with your specifications available on request.
Available in 3 sizes and 3 colours (white, blue and grey).
The panels give you an almost seamless working and writing surface of up to 5 metres
Elegant design with rounded corners and edges painted black
High quality, scratch resistant board surface made of enamelled steel, magnetic, can be written on and dry wiped
Easy and flexible assembly system using magnetic squares
Ideal for communication and meeting areas, think-tank spaces, training and workshop rooms, educational facilities, laboratories
Lifetime guarantee on the board surface (write and wipe guarantee)
This label distinguishes products that meet particularly sustainable criteria

FSC – the symbol for responsible forestry management

Product type

notice board, extendable board

Model

with 4 panels

Finish

steel, enamelled

Feature

frameless

Width

3920

mm
Height

1980

mm
Depth

10

mm
Weight

140

kg
Material of writing board

steel

Supplied

flat pack

Customers who purchased this item also purchased