EUROKRAFTpro – Boltless shelf unit system, shelf unit height 1990 mm
5 compartments, WxD 1000 x 300 mm
With rear and side panels, and plinth rail
Side panels and plinth covers plastic coated
Shelves, rear panels and adjustable shelf partitions zinc plated
Can be reconfigured and expanded with the plug-in system
Shelves height adjustable in 40 mm increments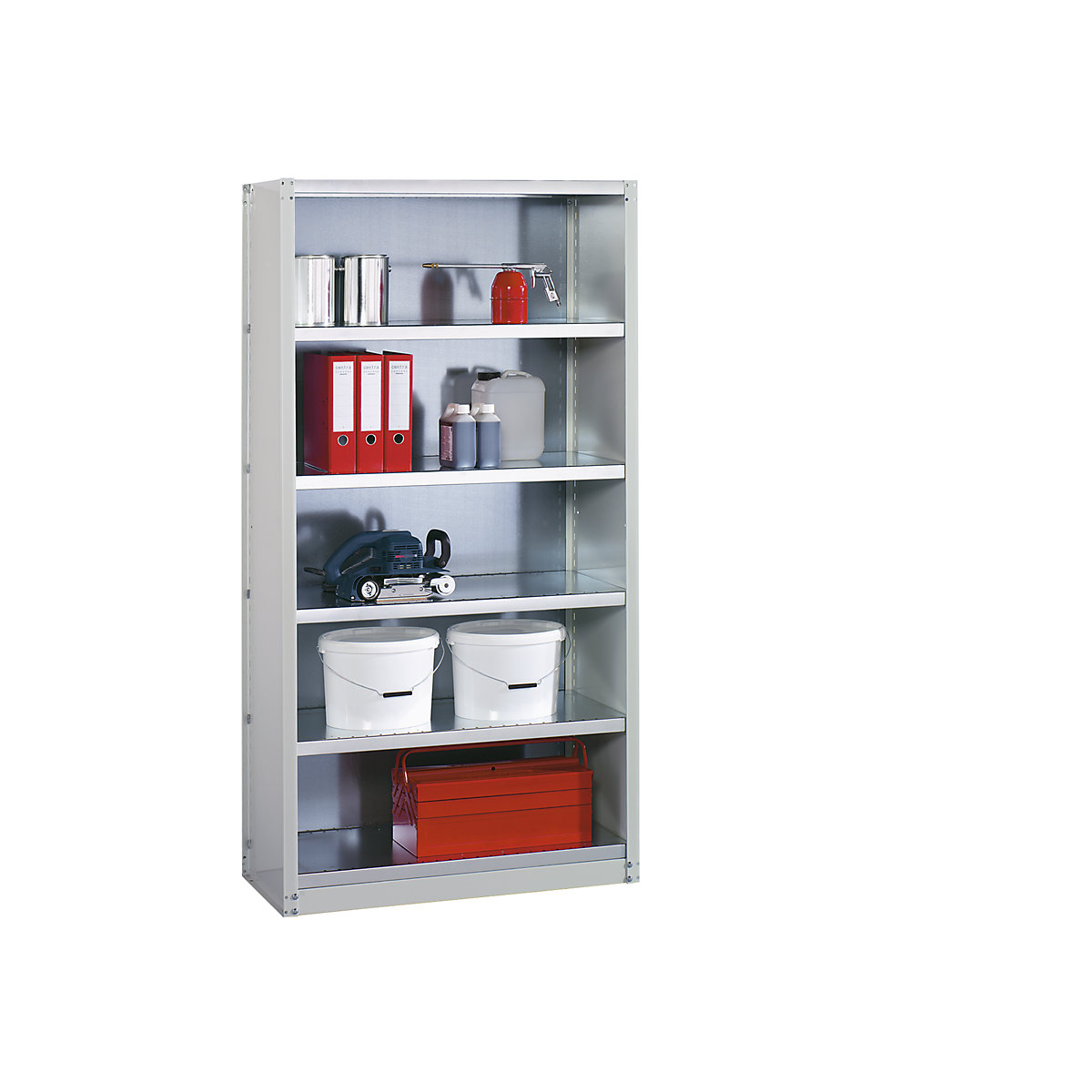 EUROKRAFTpro – Boltless shelf unit system, shelf unit height 1990 mm, 5 compartments, WxD 1000 x 300 mm, extension shelf unit, zinc plated
Width of unit = shelf width + 40 mm

Included in delivery
Standard shelf unit: 2 side panels, 1 rear panel, 6 shelves, shelf brackets and 1 plinth cover.
Extension shelf unit: same as standard shelf unit, but only 1 side panel.
If the height of the shelf unit equals more than 5 times its depth, it must be secured against tipping with suitable floor or wall fasteners.
The specified max. load values are applicable with uniform load distribution. Additional shelves may be used if the specified max. bay load is observed.
On request
– Shelf units with a height of 2190 mm or 2500 mm
– Double doors with frame and security lock (2 keys)
– Zinc plated bin rails
– Additional shelf partitions
With rear and side panels, and plinth rail
Side panels and plinth covers plastic coated
Shelves, rear panels and adjustable shelf partitions zinc plated
Can be reconfigured and expanded with the plug-in system
Shelves height adjustable in 40 mm increments

Number of shelves

6

pcs.
Max. shelf load

180

kg
Max. bay load

2000

kg
Shelf unit height

1990

mm
Overall width

1040

mm
Design

plug in

Shelf width

1000

mm
Shelf depth

300

mm
Material

steel

Shelf height adjustment increments

40

mm
Compartment height

3 x 320 / 2 x 360

mm
Supplied

flat pack

Customers who purchased this item also purchased