IBS Scherer – Type F2-D parts cleaning device
for 50 l drum
For mobile cleaning, moves like a sack truck
For cleaning medium-large and heavy parts with a robust and sturdy construction
With a perfectly fitting cover to protect the work surface
Cover also provides additional splash protection
User friendly and easy to operate due to convenient and safe foot switch technology in accordance with DGUV information
Ergonomic working height
Safety at the workplace > GS + TÜV certified safety
Maintenance free technology
Made in Germany

Safety tested
This is a test symbol. GS stands for certified safety.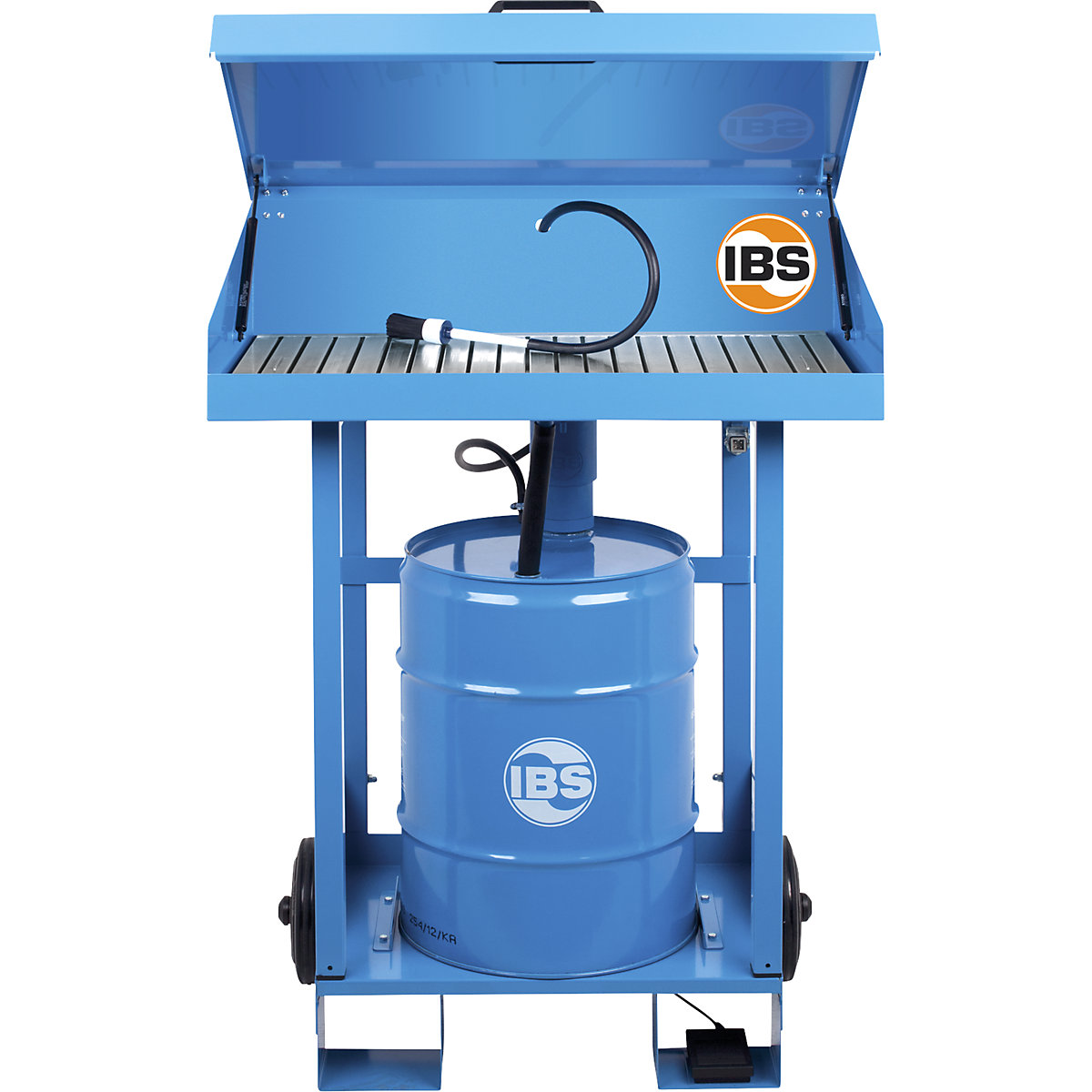 Ref.: 549448 49
IBS Scherer – Type F2-D parts cleaning device, for 50 l drum, working HxWxD 920 x 790 x 490 mm
Price / items (Excl. VAT)
The robust grating with slats ensures that parts with a weight of up to 150 kg can be cleaned. The grating with slats is easy to remove using two handles. This guarantees use appropriate for the practical applications.
The outlet featured at the bottom, along with the angle of the outlet, guarantee that no residue remains in the wash tub, that the cleaning agent cannot overflow, and that everything flows back into the drum. The special plug connection makes child's play out of assembly and disassembly – just like changing the cleaning solution in the drum. No pressure builds up in compliance with legal requirements (BGR 180 and EN 12921) – ensuring the cleaning agent cannot splash or spray in the wrong direction.
The powder coating of the device and zinc plated grating with slats guarantees a long service life.
For mobile cleaning, moves like a sack truck
For cleaning medium-large and heavy parts with a robust and sturdy construction
With a perfectly fitting cover to protect the work surface
Cover also provides additional splash protection
User friendly and easy to operate due to convenient and safe foot switch technology in accordance with DGUV information
Ergonomic working height
Safety at the workplace > GS + TÜV certified safety
Maintenance free technology
Made in Germany
Safety tested
This is a test symbol. GS stands for certified safety.
Working height

920

mm
Worktop width

790

mm
Worktop depth

490

mm
For drum size

50

l
Max. load

100

kg
Scope of delivery

includes special pump, hoses, cleaning brush

Material

sheet steel, powder coated

Design of pump

self-priming, maintenance free special pump

Test symbol

safety tested

Product type

parts washers

Supplied

flat pack

Customers who purchased this item also purchased