Back
EUROKRAFTpro electric material stand
Raise and lower items at the touch of a button
Do you find yourself stopping work every time you need a screw? Do you feel like you're doing yoga every time you need a component? Bending down, pushing, standing up and sitting down over and over again... surely things could be easier? Of course they can: using the EUROKRAFTpro electric material stand!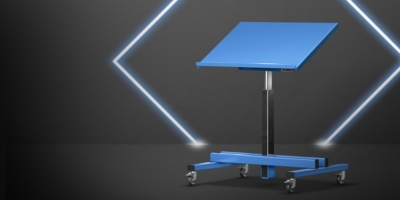 The new member of the team is helpful, agile, receptive, robust, strong and eager to work.

Not only does its flexibility allow the EUROKRAFTpro electric material stand to make raising and lowering loads of up to 125 kg far simpler, while taking the physical strain off your employees. The rechargeable lithium ion battery ensures it is also ready for operation at all times – and is even electrically height-adjustable when loaded. The tilting load surface also provides much easier access to goods picked for orders. For example, at a workstation in the workshop, the electric material stand ensures that you can reach for the next screw comfortably, or the next component, without contorting yourself.

In this spirit: goodbye yoga! Hello work aids.
Choose between two platform sizes: a large and small work aid
Ergonomics at the touch of a button
Move loads up to 125 kg without strain
Control unit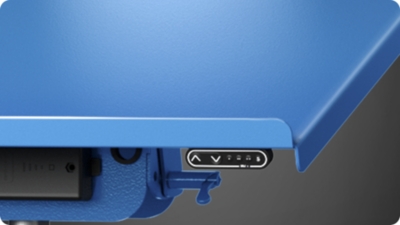 Raise and lower items without putting too much thought into it. The responsive operating buttons featuring clear symbols allow you to operate the electric material stand intuitively, and makes moving it up or down child's play.

A 3 position memory also allows it to automatically approach the positions saved.
Tilt adjustment + platform size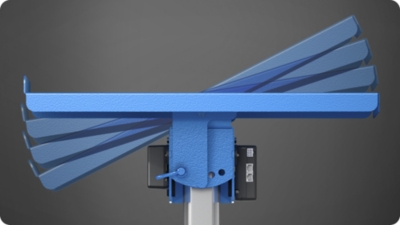 The platform size is suitable for Euro stacking container dimensions: 600 x 400 mm or 800 x 600 mm. The platform tilt can be adjusted from 0° to 40° in 4 steps of 10° each. The locking lever is installed on the outside and is therefore particularly easy to access.

You have 2 platform models to choose from: either as a platform with an anti-slip device or as a tray with an MDF insert. The insert is easy to lift out and remove, or replace, using the two recesses at the bottom of the tray.
Rechargeable lithium ion battery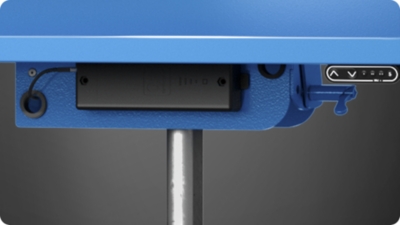 And it keeps going... and going... and going... the EUROKRAFTpro electric material stand features a rechargeable lithium ion battery system, which keeps it fully mobile. One battery charge has an operating time of up to 80 movement cycles when fully loaded. To maintain operational readiness at any time, the discharged battery can simply be exchanged for a fully charged one.
A visual indication of the charge status is provided by a battery level indicator and an acoustic signal is provided by a tone. Should mobility not be required, it can also be operated using mains power.
Applications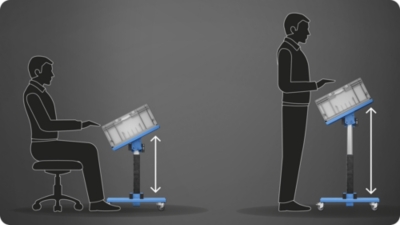 The material stand is suitable for versatile use, and in particular for stocking and keeping work tools ready at an ergonomic height, in places such as assembly stations, or when order picking, in the warehouse, in production, assembly or maintenance. The material stand also comes in handy in prototyping and production.

In addition, it is ideal as a mobile storage space for laptops, work papers, etc.
On request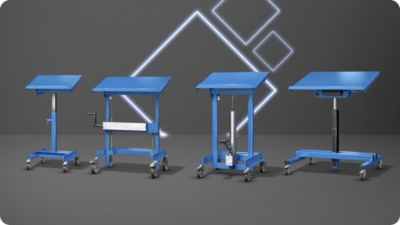 For use in the electrical industry or when processing electronic components (e.g. in the automotive industry), the electric material stand is also available, upon request, as an ESD version (electrostatic discharge). Custom models are also possible upon request.

Contact your customer care agent or call our customer service.
The extra extras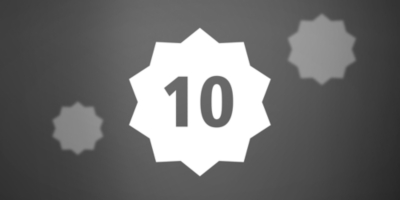 You'll be thrilled by the 5-year after sales service, the 10-year guarantee, and useful accessories such as an external battery charger, a spare rechargeable battery and the Euro stacking containers that exactly fit.
Discover our Expertise Collection
EUROKRAFT: products that are made to get the job done
Hello work aids!
The newest member of your team is ready to get to work! You can nab yourself a decisive head start right now – by ordering right away. We'll also take care of it "without any unnatural motions".

We will be happy to help you select your own individual EUROKRAFTpro electric material stand.
Already heard of the KK Lab?
There's a new innovation lab at KAISER+KRAFT – for everything that helps keep us moving forward. This is where we work on ideas, products and innovations. This is because we don't just want to get a good job done, we want to do an even better job. After all, the results of our development efforts are not only expected to work perfectly, but also be fun to use. At the end of the day, they're exactly what you've wanted all along.

Just drop by and make the acquaintance of Ms K – the direct line to the KK innovation lab. To make sure you're equipped for everything you'll need, both today and tomorrow.
Our top products from this guide
Our top categories from this guide