PIG – HazMat absorbent sheeting sock for chemicals
pack of 12
Can be laid out as a preventative measure, for containment and absorption of aggressive liquids
For quick absorption of highly concentrated chemicals, acids and alkaline solutions
Filled with polypropylene

Resistant to aggressive, corrosive chemicals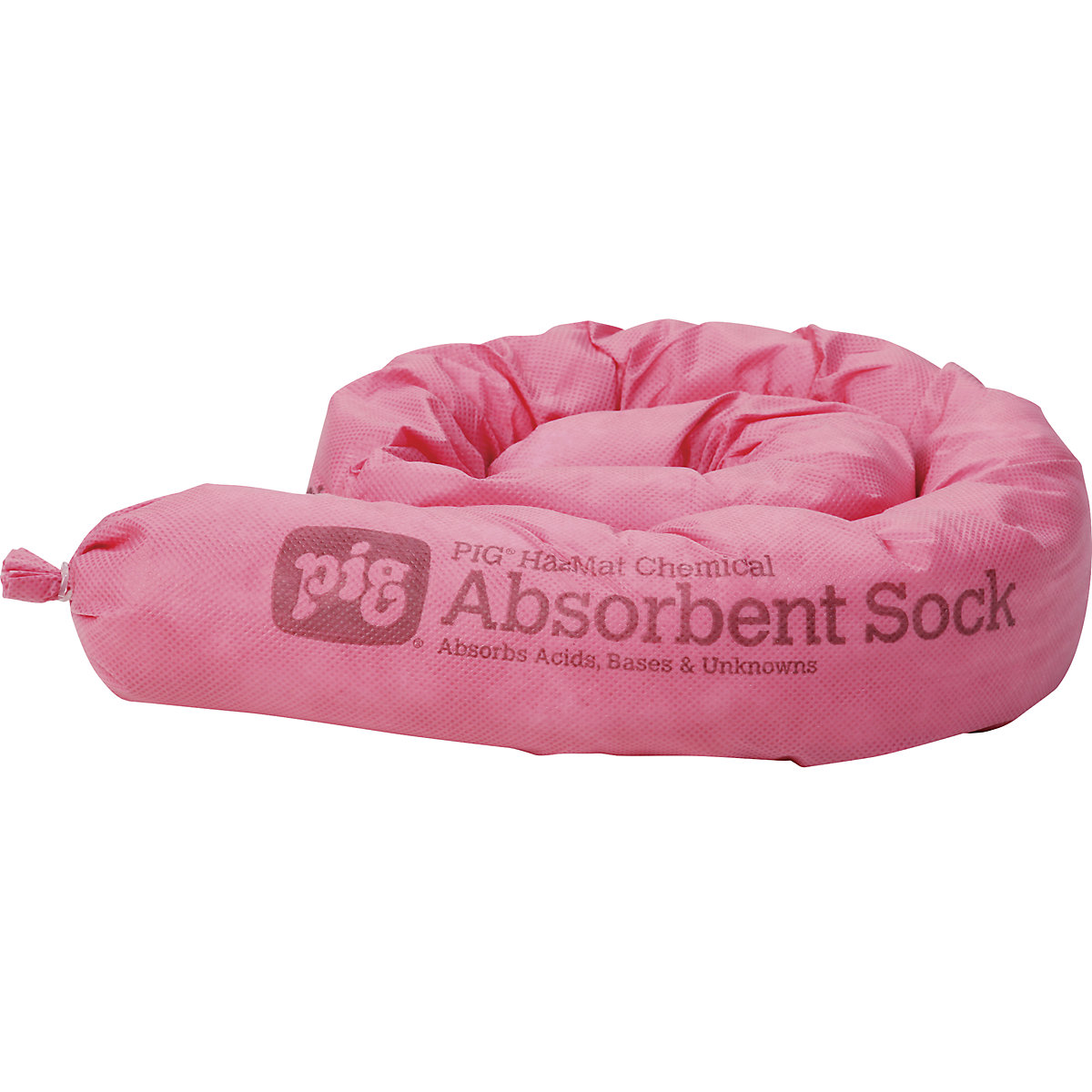 Ref.: 528611 49
PIG – HazMat absorbent sheeting sock for chemicals, pack of 12, length 1.17 m
---
Good reasons to purchase products from us
3 year minimum warranty
30 day right of return
Free delivery
Fast delivery
---
We will be happy to help you
01442 238000
Monday-Friday 8am-5pm
HazMat absorbent sheeting socks for chemicals – ideal for containing, absorbing and binding large quantities of escaped liquids such as concentrated chemicals, solvents, acids or caustics.
Also for highly concentrated chemicals such as 98% sulphuric acid and 30% sodium hydroxide.

The chemicals-resistant absorbent socks do not disintegrate and do not result in hazardous reactions in the event of contact with corrosive liquids.

For the following liquids:
98% sulphuric acid, hydrochloric acid, nitric acid, hydrofluoric acid, phosphoric acid, 30% sodium hydroxide, potassium hydroxide, hydrogen peroxide etc.
Please request a free sample of absorbent sheeting for testing. Please specify the version.
Can be laid out as a preventative measure, for containment and absorption of aggressive liquids
For quick absorption of highly concentrated chemicals, acids and alkaline solutions
Filled with polypropylene
Resistant to aggressive, corrosive chemicals

Model

chemicals

Absorption

36

l/pack
Material

polypropylene

Length

1.17

m
Diameter

80

mm
Colour

pink

Weight

4.2

kg
Application

heavy duty

Situation

leak prevention




reaction to leaks (emergency)

Property

absorbent / soaking up




diverting / containing / collecting

Type of leakage

surface leaks




spilling

Frequency of use

multiple

Place of use

indoor use

Weight per item

0.35

kg
Product type

absorbent sheeting

Supplied

assembled

Information on absorbent agents and spillage management products

(DE)