MAUL – MAULviso LED magnifying lamp
arm length 410 mm, with table clamp
3 dioptres real glass lens (1.75 x magnification), Ø 5'' (12.7 cm), lens area 144 cm²
Double benefits: magnifying lamp and functional workplace lamp
LEDs in a ring shape for uniform illumination
Includes a protective cover that prevents sunlight shining onto the lens and stops it from becoming dusty
Sturdy and solid, highly variable adjustment
Switch on lamp head makes it convenient to switch on and off
Zero power consumption when switched off
Extremely low energy consumption
Ideal for precise work in laboratories, workshops, technical agencies, doctors' surgeries or for private use for stamp collectors, precision engineers or as a reading magnifier

This label distinguishes products that meet particularly sustainable criteria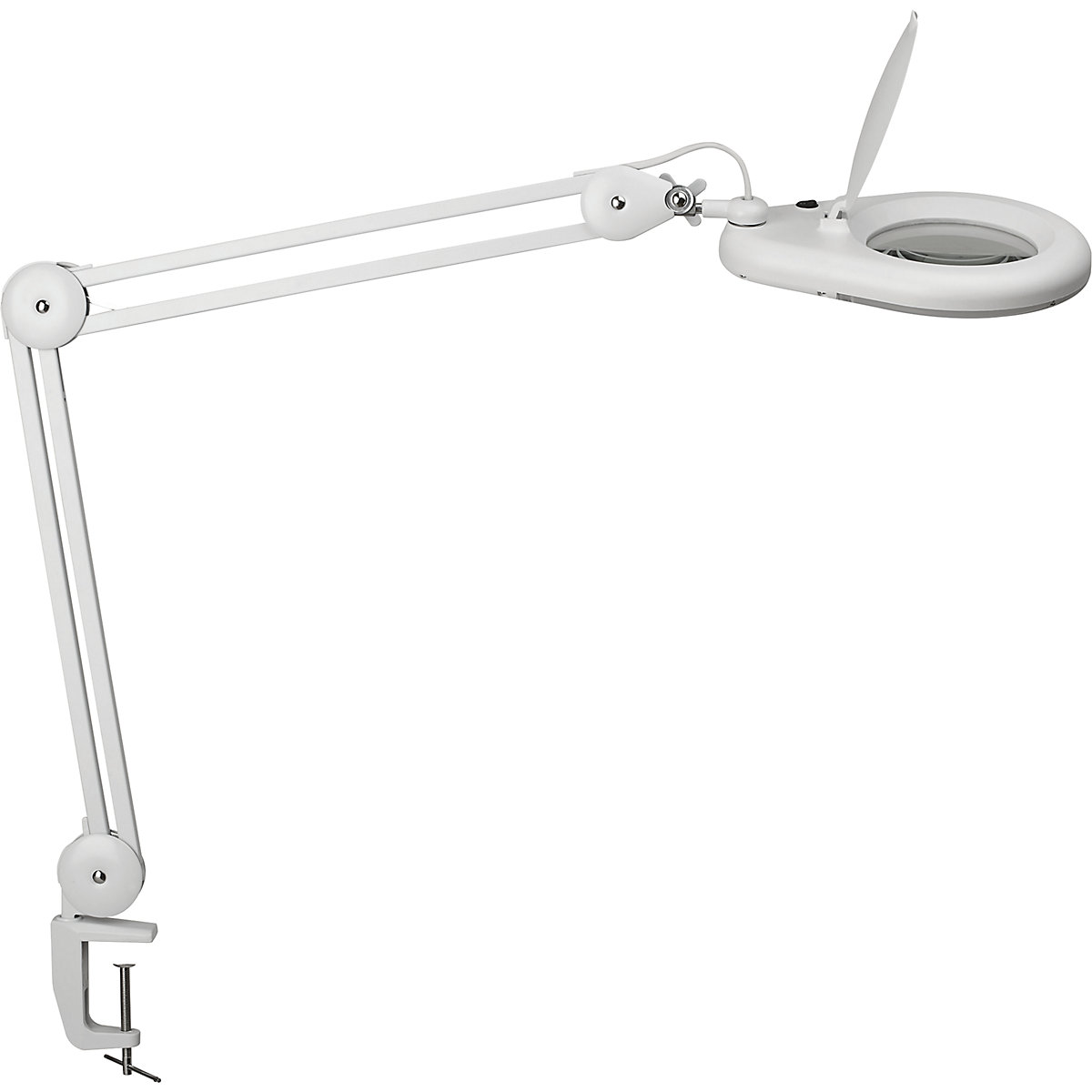 MAUL – MAULviso LED magnifying lamp, arm length 410 mm, with table clamp, black
Sturdy: strong parallelogram metal arm, rotates 360°. Lamp head LxW 265 x 200 mm, with 56 LEDs, 6500 Kelvin, 2120 lux illuminance at a distance of 350 mm, luminous flux 660 lumen. Lamp contains built-in LED lamps. The lamps cannot be replaced.

Clamp base made of plastic coated metal (clamping width up to 63 mm).
Arm length at bottom and top 410 mm. Height in normal working position 410 mm. Height adjustable up to 750 mm.
3 dioptres real glass lens (1.75 x magnification), Ø 5'' (12.7 cm), lens area 144 cm²
Double benefits: magnifying lamp and functional workplace lamp
LEDs in a ring shape for uniform illumination
Includes a protective cover that prevents sunlight shining onto the lens and stops it from becoming dusty
Sturdy and solid, highly variable adjustment
Switch on lamp head makes it convenient to switch on and off
Zero power consumption when switched off
Extremely low energy consumption
Ideal for precise work in laboratories, workshops, technical agencies, doctors' surgeries or for private use for stamp collectors, precision engineers or as a reading magnifier
This label distinguishes products that meet particularly sustainable criteria

Power

8

watt
Bulb

LED

Mains voltage

220 – 240 V

Frame material

metal

Protection type

II Euro plug

Energy efficiency class

A+

Energy consumption

8

kWh/1000h
Mains cable

1.7

m
Lamp base

with table clamp

Lamp head width

200

mm
Light head

tilting




rotating

Light head material

plastic

Service life

20000

hrs
Luminous flux

660

lumen
Lamp head depth

265

mm
Max. brightness

2120

lux
Weight

2.56

kg
Luminous colour

daylight white

Colour temperature

6500

K
Length per arm

410

mm
Material

metal




plastic

Supplied

assembled

Customers who purchased this item also purchased