MAUL – Mobile folding board
sheet steel, coated
Writing surface up to 6 m² on smallest possible space
Six sides to write on
Two fold out side boards
Sturdy metal hinges
Work surfaces made of plastic coated sheet steel
Magnetic, can be written on and dry wiped
Sturdy, convex profile
Sturdy, grey corner connectors
Particularly stable frame, powder coated in silver colour
Attractive frame made of silver anodised aluminium
Board effortless to roll away, double swivel castors with wheel stops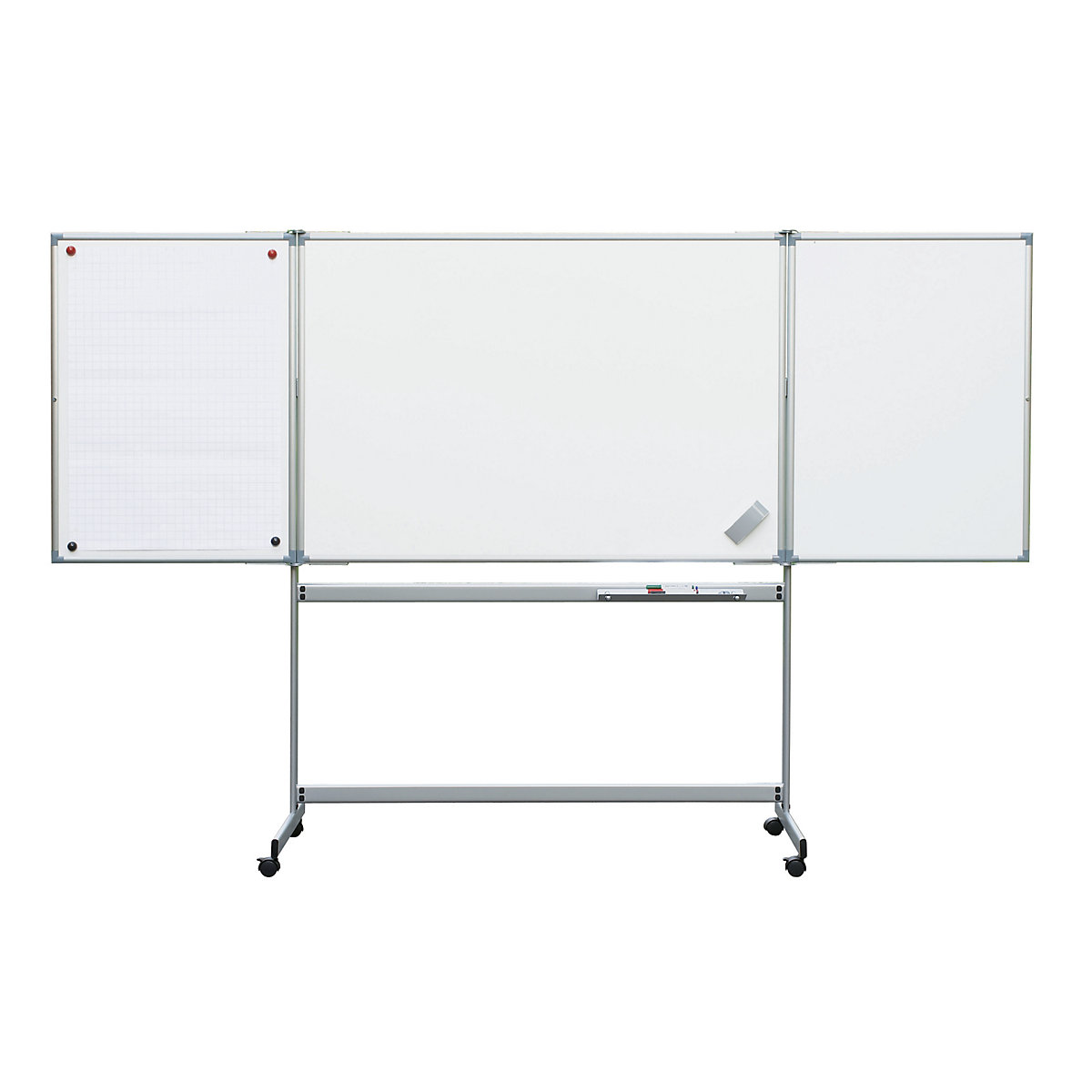 Ref.: 945225 49
MAUL – Mobile folding board, sheet steel, coated, WxH 1500 x 1000 mm
Price / items (Excl. VAT)
The practical folding board made by MAUL® makes an impression with its quality and easy of use.
Anyone who requires plenty of writing surface in the smallest of spaces will find this model to be exactly right. Six sides to write on with hinged door technology to provide plenty of space – sturdy hinges ensure all surfaces are convenient to write on.
The double swivel castors make the robust, silver frame easy to move – the castors can be easily and safely locked when using the magnetic, write-on work surface.
Depending on the extent of your work, you can keep the board closed at a width of just 1.50 m, while opening the side boards doubles the width and provides a whole 6 m² of space for your notes.
Board size 1000 x 1500 mm. Side boards 1000 x 750 mm each. External dims, closed, 1580 x 1950 x 650 mm.
Writing surface up to 6 m² on smallest possible space
Six sides to write on
Two fold out side boards
Sturdy metal hinges
Work surfaces made of plastic coated sheet steel
Magnetic, can be written on and dry wiped
Sturdy, convex profile
Sturdy, grey corner connectors
Particularly stable frame, powder coated in silver colour
Attractive frame made of silver anodised aluminium
Board effortless to roll away, double swivel castors with wheel stops
Product type

folding boards, mobile

Finish

steel, coated

Feature

folding




mobile

Fittings

storage tray

Wheel fittings

4 double swivel castors with wheel stops

Board width

1500

mm
Board height

1000

mm
Width

1580

mm
Height

1950

mm
Depth

650

mm
Frame thickness

1.3

mm
Weight

39.5

kg
Material of writing board

steel, coated

Colour of writing board

white

Base colour

silver

Supplied

flat pack

Customers who purchased this item also purchased