KERN – Precision scales
automatic adjustment, can be calibrated
Adding up countable parts
Compact dimensions, which has advantages when space is tight
Large stainless steel weighing plate, removable
Precise counting: the automatic reference optimisation incrementally improves the average value of the part weight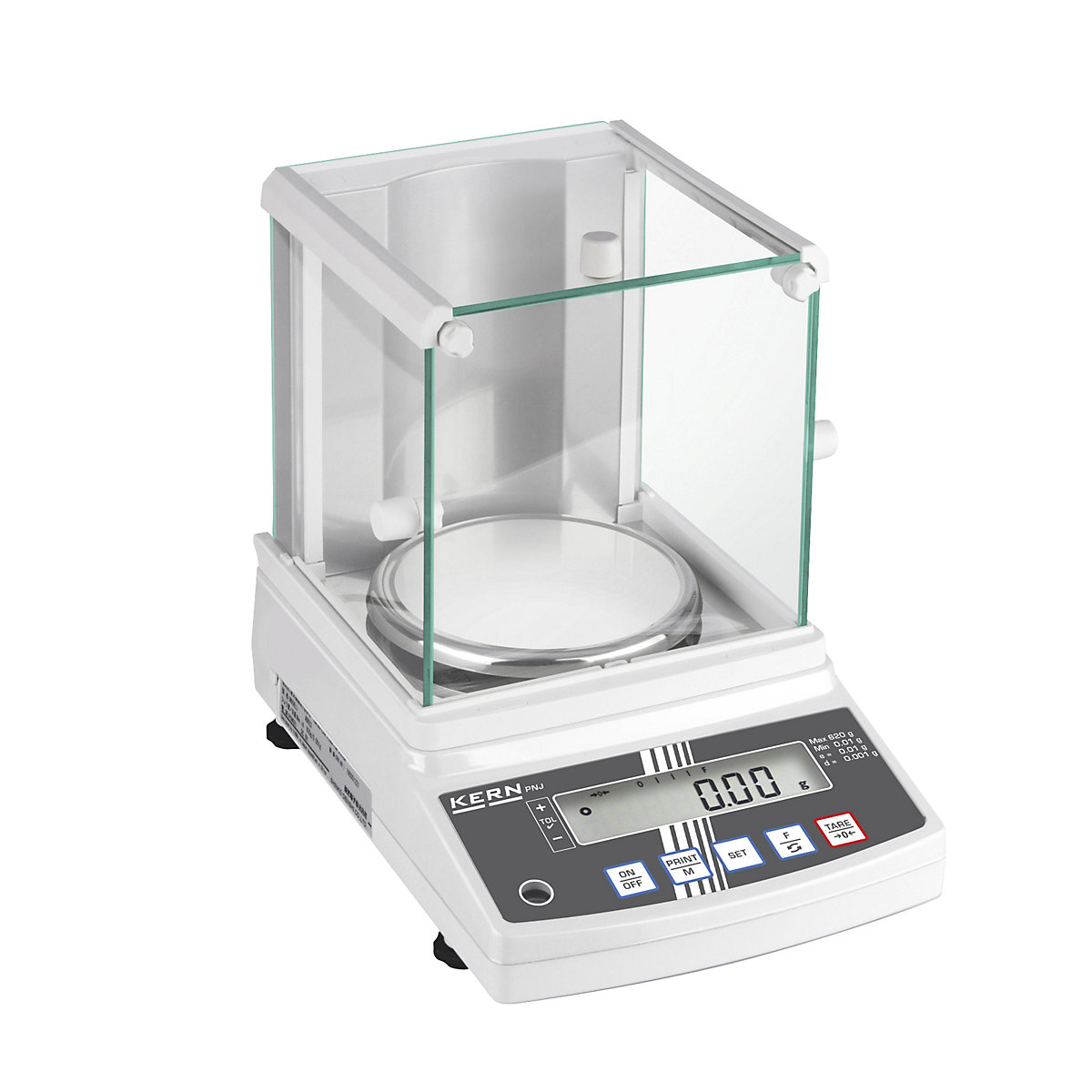 Ref.: 474542 49
KERN – Precision scales, automatic adjustment, can be calibrated, weighing range up to 620 g, read-out accuracy 0.001 g, weighing plate 140 mm
Max. weighing range [kg]: 0.62, Min. weighing range [g]: 0.02, Scale division [g]: 0.001, Weighing platform dimensions [mm]: Ø 140, Calibration value [g]: 0.01, Height [mm]: 266, Width [mm]: 202, Weight [kg]: 4.2
---
Good reasons to purchase products from us
3 year minimum warranty
30 day right of return
Free delivery
Fast delivery
---
We will be happy to help you
01442 238000
Monday-Friday 8am-5pm
The new standard in the laboratory with a robust tuning fork weighing system. The internal, automatic calibration guarantees high levels of precision and allows the scales to be used at different locations. Ideal for mobile uses subject to calibration regulations, such as gold and jewellery purchases at customer premises. High quality tuning fork weighing system for fast display of the weight value, pinpoint accuracy when metering and high mechanical robustness. Capacity display: an ascending band of light indicates the weighing range still available. Large glass wind guard with 3 sliding doors for convenient access to the goods being weighed, weighing chamber HxWxD 160 x 172 x 171 mm.
Please include calibration with your order.
Calibration cannot be done at a later stage.
Adding up countable parts
Compact dimensions, which has advantages when space is tight
Large stainless steel weighing plate, removable
Precise counting: the automatic reference optimisation incrementally improves the average value of the part weight
Product type

laboratory scales

Material of weighing platform

stainless steel

Depth

293

mm
Figures height

16.5

mm
Lowest item weight for item counting

--

Scale model

can be calibrated

Function

item counting




checkweighing




tuning fork weighing system

Interfaces

RS-232

Power supply

multiple power supply unit

Supplied

partially assembled