bimos – AIR FLOW industrial swivel chair
with sit-stop castors and foot ring
Air flow effect due to an innovative honeycomb structure with optimal air circulation
Comfortable upholstery for a pleasant feeling while seated without sweating
Automatic synchronisation technology with automatic weight regulation for active dynamic sitting
Integrated lumbar support
Easily adjustable ergonomic features
Flexible work at elevated workplaces

Safety tested
This is a test symbol. GS stands for certified safety.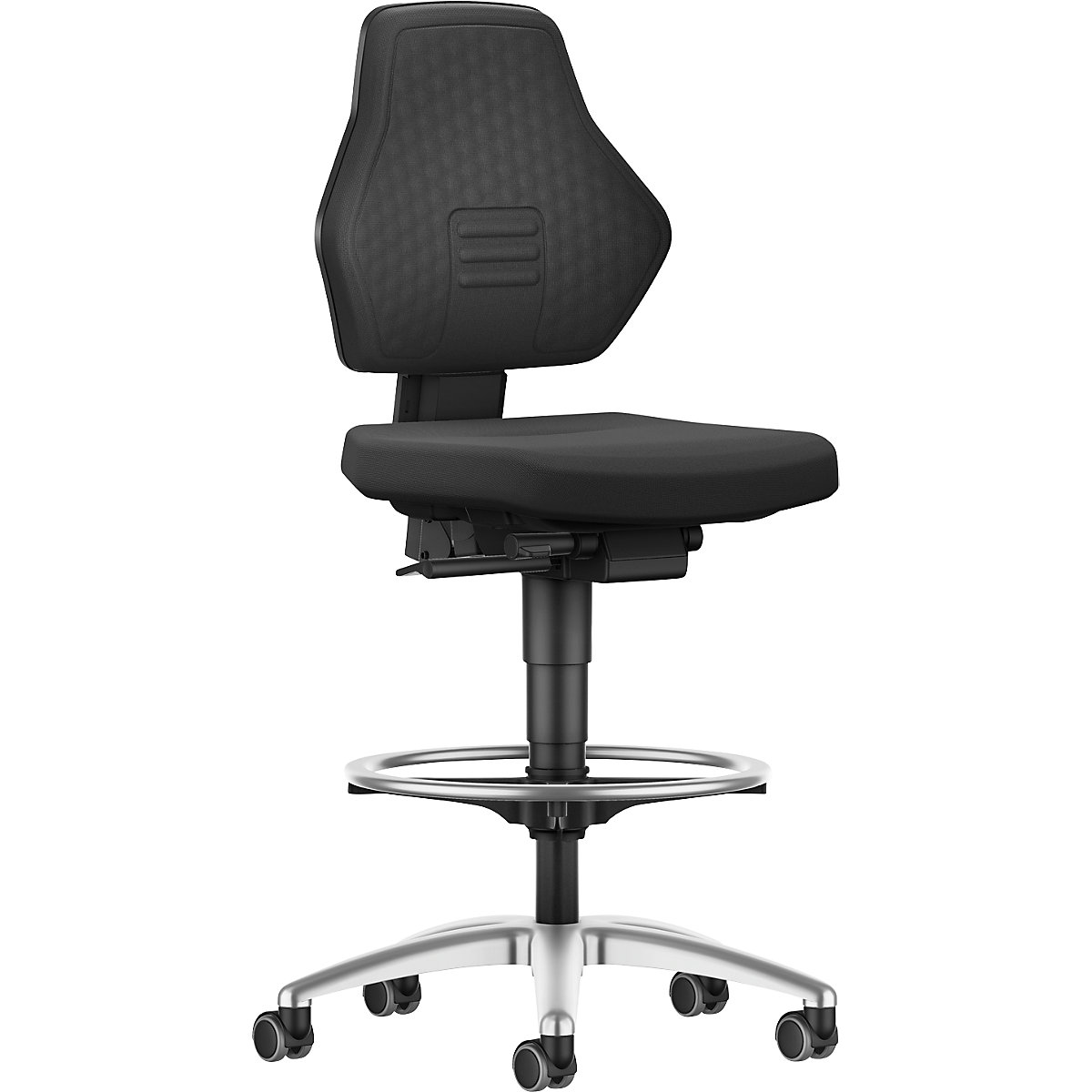 bimos – AIR FLOW industrial swivel chair, with sit-stop castors and foot ring, Supertec cover black
Price / items (Excl. VAT)
The AIR FLOW industrial swivel chair is a reliable industrial chair for all workplaces in production areas and laboratories. The innovative air flow effect ensures an ideal working climate. Together with its comfortable upholstery and its extensive ergonomics package, this chair makes an intelligent companion for your everyday work.
The innovative honeycomb structure with its air flow effect for the back area creates an ideal microclimate and allows air to flow to your back. The comfortable upholstery with integrated lumbar support is not only ergonomic, but also ensures air circulates around your back area and therefore creates a pleasant feeling while you are seated, while ensuring you do not sweat.
The specially developed industrial ergonomics provide the body with support for any working posture and are intuitive to operate.
The synchronous mechanism makes active dynamic sitting possible while providing the body with optimum support. The automatic weight regulation means the chair automatically adapts to the user, and ensures an ergonomic posture while seated without requiring any effort for adjustment.
The extensive ergonomics package always includes seat height, seat depth, seat angle and back rest height adjustment. The AIR FLOW industrial chair therefore optimally adapts to the user, the situation at the workplace and the job being done as well. A tapered upper back rest extends the reaching distance for flexible work. Sturdy aluminium five star base, polished.

The sit-stop castors brake the chair when under load. This makes safe, DIN-compliant work possible even in elevated workplaces and when working on machines. Infinite gas lift height adjustment range from 610 – 880 mm.
Ergonomics: automatic synchronisation technology with automatic weight regulation. Seat angle, height and depth are adjustable.
Supplied flat pack – easy self-assembly.
Your advantage
The back rest with its special honeycomb structure ensures air can circulate and therefore prevents the user from sweating at workplaces in the workshop.
Air flow effect due to an innovative honeycomb structure with optimal air circulation
Comfortable upholstery for a pleasant feeling while seated without sweating
Automatic synchronisation technology with automatic weight regulation for active dynamic sitting
Integrated lumbar support
Easily adjustable ergonomic features
Flexible work at elevated workplaces
Safety tested
This is a test symbol. GS stands for certified safety.


Frame design

with sit-stop castors and foot ring

Seat mechanism

synchronous mechanism and weight regulation

Seat and back rest colour

black

Colour of covering

black

Type of height adjustment

gas spring

Frame material

aluminium

Height adjustment range

610 – 880

mm
Back rest height

450

mm
Seat width

460

mm
Seat depth

400 – 460

mm
Foot rest

with

Type of arm rests

without arm rests

Product type

industrial swivel chairs

Foot plate diameter

680

mm
Max. load

120

kg
Seat support colour

black

Frame colour

polished aluminium

Supplied

partially assembled

Customers who purchased this item also purchased