IBS Scherer – Fast-acting degreaser
BLITZ Z
Water hazard class 2 (self-assessment). Classification based on the administrative regulation covering water hazardous substances (VwVwS) from August 2005
Evaporates very quickly
Residue free
No metal corrosion
Special properties – high yield due to filling with carbon dioxide
Complete emptying guaranteed – even when cleaning above your head
Industrial spray head with ball valve and extended nozzle – minimal evaporation losses when spraying due to accuracy of work, even if using gloves
Air quality control requirements – TA-Luft (German Clean Air Act), class: NK, proportion: 94.9%
Cleaning effect – removes oil, grease, resinous crusts, silicones, adhesive residue, tar, bitumen, mechanical cleaning effect due to high spray pressure
Pleasant lemon scent

Hazard class GHS02 – flammable, self-heating, self-reactive, pyrophoric, water-reactive, organic peroxides

Hazard class GHS09 – hazardous to aquatic environment

Hazard class GHS07 – Attention, irritating substances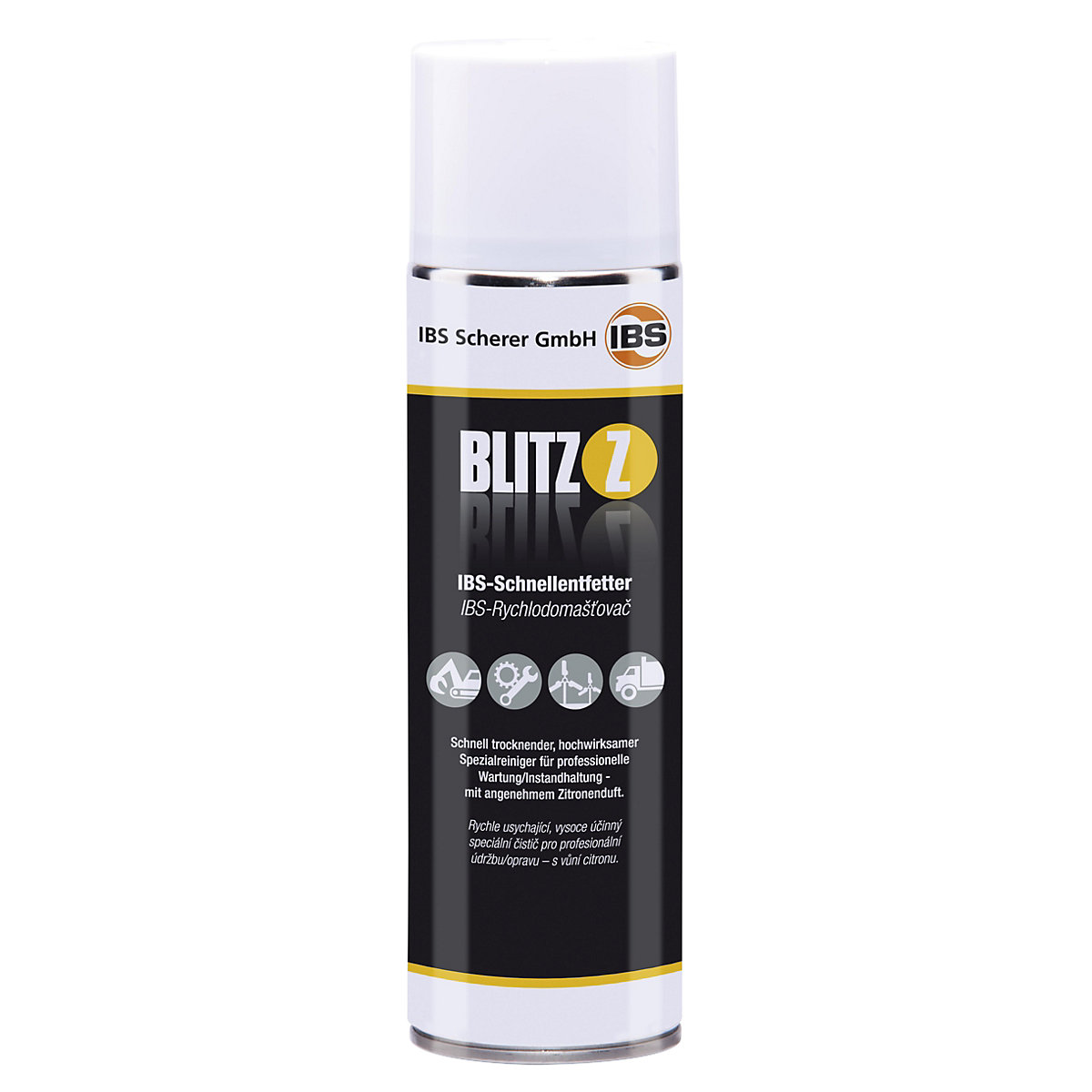 Ref.: 478541 49
IBS Scherer – Fast-acting degreaser, BLITZ Z, 12 x 500 ml cans
Pack of 12 x 500 ml cans.

For cleaning difficult to reach machines and metal parts. Removes greases, oils and resins. Evaporates very quickly and leaves no residues – pleasant lemon scent. Ideal for the pre-treatment of surfaces prior to painting or gluing.
Water hazard class 2 (self-assessment). Classification based on the administrative regulation covering water hazardous substances (VwVwS) from August 2005
Evaporates very quickly
Residue free
No metal corrosion
Special properties – high yield due to filling with carbon dioxide
Complete emptying guaranteed – even when cleaning above your head
Industrial spray head with ball valve and extended nozzle – minimal evaporation losses when spraying due to accuracy of work, even if using gloves
Air quality control requirements – TA-Luft (German Clean Air Act), class: NK, proportion: 94.9%
Cleaning effect – removes oil, grease, resinous crusts, silicones, adhesive residue, tar, bitumen, mechanical cleaning effect due to high spray pressure
Pleasant lemon scent
Hazard class GHS02 – flammable, self-heating, self-reactive, pyrophoric, water-reactive, organic peroxides

Hazard class GHS09 – hazardous to aquatic environment

Hazard class GHS07 – Attention, irritating substances

Area of application

machinery and components

Model

solution

Weight

6

kg
Contents

0.5

l
Weight per item

0.5

kg
Product type

industrial cleaners

Supplied

assembled

Hazard class

GHS02, GHS07, GHS09

Customers who purchased this item also purchased
Together we are strong: Helpful information about this product.