IBS Scherer – VIVALUB chain spray
pack of 12 cans
Synthetic lubricant – ensures no gumming is possible
Intensive long term inside and outside lubrication on diverse drive elements without a relubrication system
Extremely high adhesive properties – due to special additives
Outstanding creep and separating properties
Protects chains and cables etc. from all types of wear
Temperature resistant from –30 °C to 150 °C

Hazard class GHS02 – flammable, self-heating, self-reactive, pyrophoric, water-reactive, organic peroxides

Hazard class GHS07 – Attention, irritating substances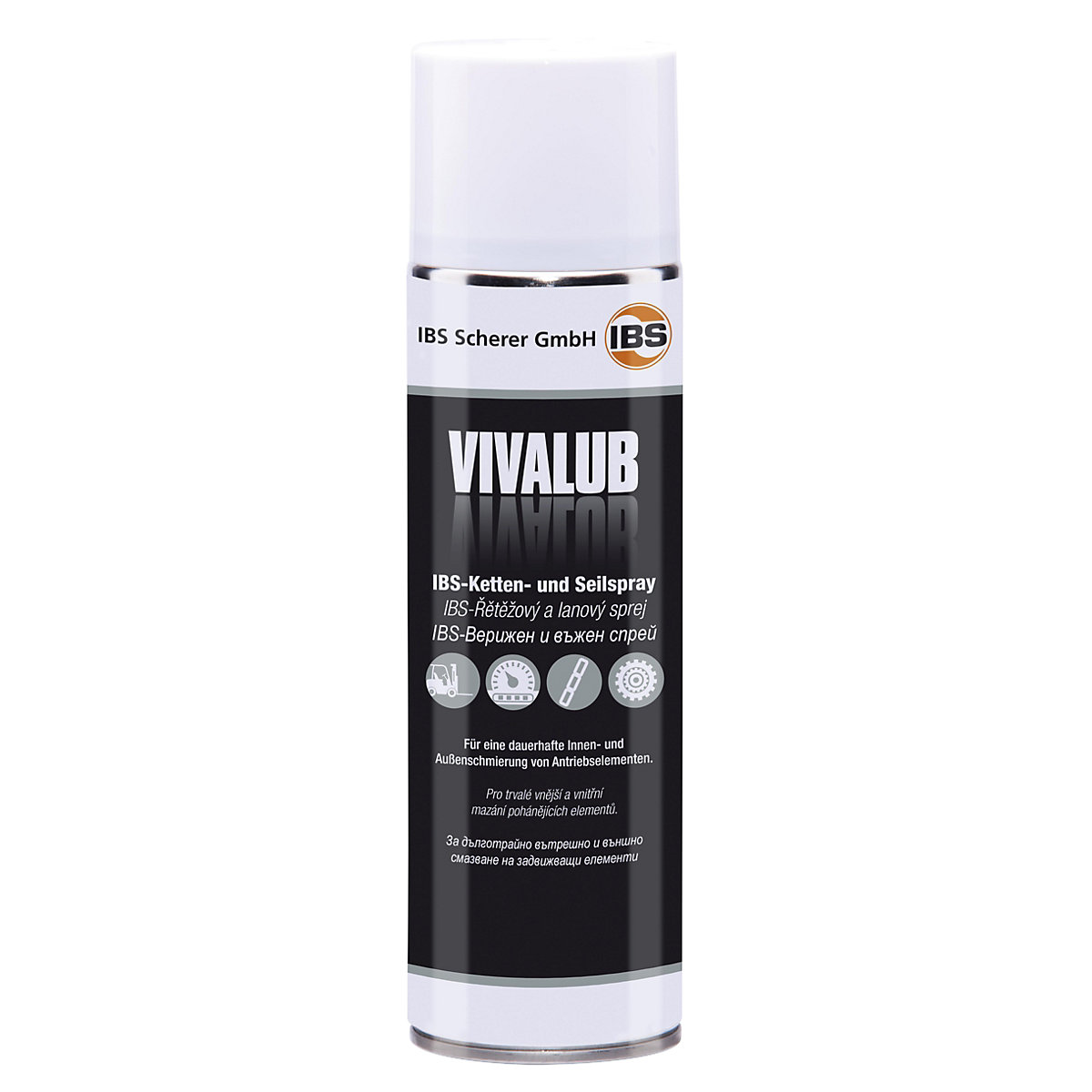 Ref.: 478544 49
IBS Scherer – VIVALUB chain spray, pack of 12 cans, 500 ml
The VIVALUB chain spray was specially developed for use as a long term inside and outside lubrication for fast or slow running drive elements. Ideal for high loads on e.g. motorcycle and bicycle chains, toothed gears and worm gears, joints, castors, ball bearings, couplings.

Pack of 12 x 500 ml cans.
Synthetic lubricant – ensures no gumming is possible
Intensive long term inside and outside lubrication on diverse drive elements without a relubrication system
Extremely high adhesive properties – due to special additives
Outstanding creep and separating properties
Protects chains and cables etc. from all types of wear
Temperature resistant from –30 °C to 150 °C
Hazard class GHS02 – flammable, self-heating, self-reactive, pyrophoric, water-reactive, organic peroxides

Hazard class GHS07 – Attention, irritating substances

Area of application

chains

Model

solution

Weight

6

kg
Contents

0.5

l
Weight per item

0.5

kg
Product type

maintenance cleaners

Supplied

assembled

Hazard class

GHS02, GHS07

Customers who purchased this item also purchased
Together we are strong: Helpful information about this product.