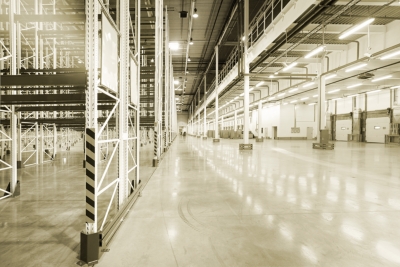 Mercedes-Benz Manufacturing
New plant in Esipovo, Solnechnogorsky, Russia
The foundation stone for the new plant in the Moscow region was laid as early as 2017. It took less than 2 years to complete. The new plant with an area of 85 hectares is located 40 kilometres northwest of the capital Moscow in the industrial park Esipovo – and is part of the global production network with more than 30 locations worldwide.

In the future, driverless transport systems will convey the car bodies between the trades, automated goods basket systems will be used in assembly and completely new solutions such as human-robot cooperation will be used to install the windscreen without a protective fence. This is what industry 4.0 looks like in reality. KAISER+KRAFT was responsible for the majority of the intralogistics here and was able to successfully demonstrate with this order what is possible when customer and supplier develop and successfully implement a project in close partnership.

Together with the supplier FPS Germany GmbH, KAISER+KRAFT supplied the kits for intralogistics transport vehicles which were electronically configured on site using CAD programs and then physically assembled.

"From now on, several hundred vehicles of different designs will circle through the plant, each vehicle travelling an average of around 12 kilometres per day", explain Michael Moser, General Manager CEE – Central Eastern Europe Group KAISER+KRAFT, and FPS Managing Director Enrico Seidel.