PIG – HAM-O® universal absorbent sheeting roll
universal version, length 46 m
Effective absorption and containment of leaked liquids
The exclusive, dirt concealing camouflage cover layer renders dirt invisible and therefore saves procurement and disposal costs
Durable absorbent sheeting material, does not fall apart and leaves no fuzz
8 layers of 100% polypropylene with a top side made of spunbond
Perforation: every 203 mm / length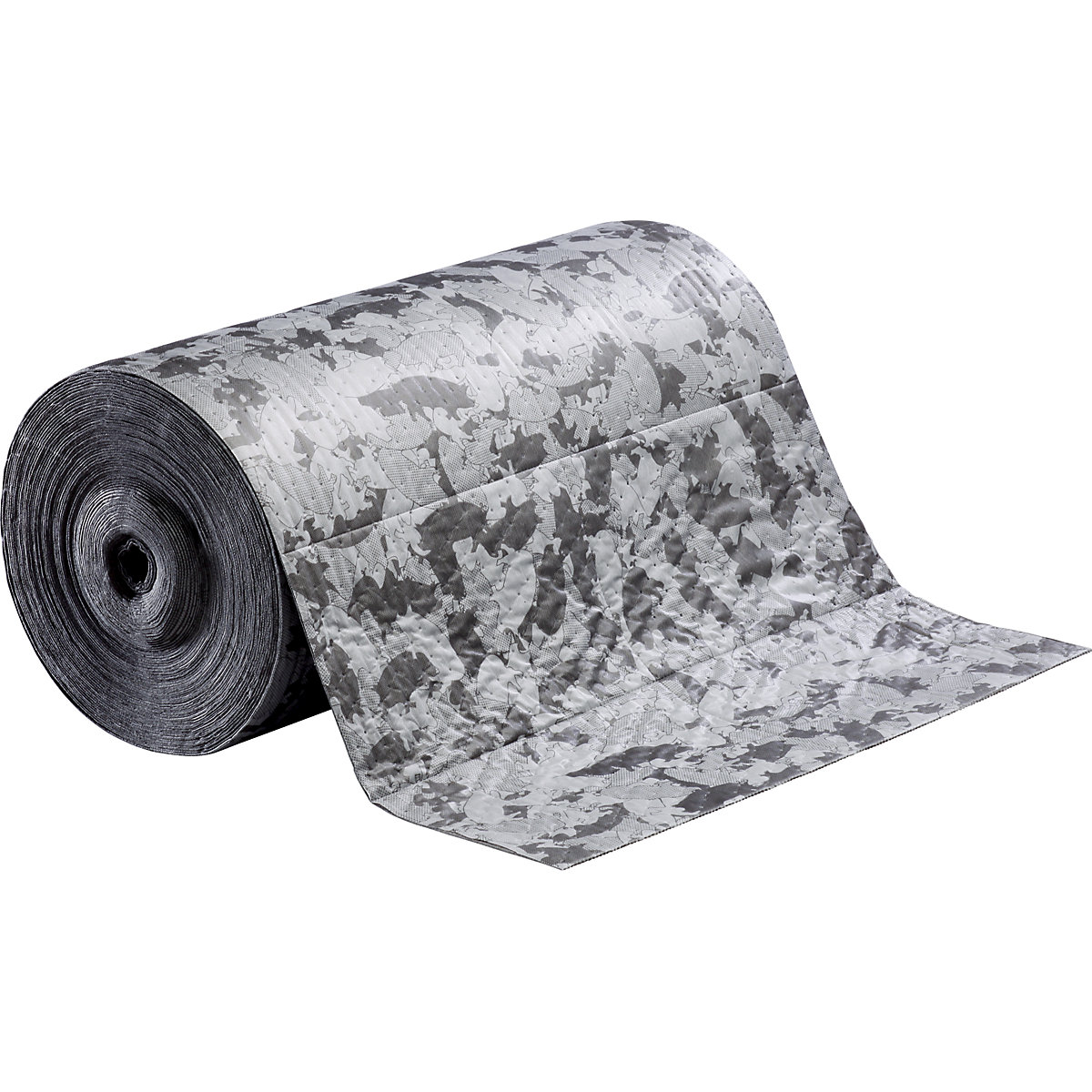 Ref.: 528569 49
PIG – HAM-O® universal absorbent sheeting roll, universal version, length 46 m, width 810 mm, grey
Colour: grey
---
Good reasons to purchase products from us
3 year minimum warranty
30 day right of return
Free delivery
Fast delivery
---
We will be happy to help you
01442 238000
Monday-Friday 8am-5pm
Versatile absorbent sheeting mat for many different areas of use.
The robust top side made of spunbond can withstand heavy pedestrian traffic.

Unique pattern conceals leaks and drips. This means the matting does not need to be replaced for visual reasons, which saves material and disposal costs.

Fleece rolls are ideal for covering large areas and for absorbing leakages and splashes.
The heavyweight version of the matting guarantees that it is very durable and absorbent and can be used for demanding tasks and extensive cleaning jobs.

Perforated every 255 mm. The mat can simply be torn off to the right length. This reduces waste.
Perforation: every 51 mm / width and every 20,3 mm / length.

Absorbs oil, refrigerant, solvents and water:
Diesel fuel, hydraulic oil, synthetic oils, vegetable oil, antifreeze, water-based solvents, propylene glycol, acetone, toluene, xylene, MEK etc.
Many other non-corrosive liquids.
Please request a free sample of absorbent sheeting for testing. Please specify the version.
Effective absorption and containment of leaked liquids
The exclusive, dirt concealing camouflage cover layer renders dirt invisible and therefore saves procurement and disposal costs
Durable absorbent sheeting material, does not fall apart and leaves no fuzz
8 layers of 100% polypropylene with a top side made of spunbond
Perforation: every 203 mm / length
Material

polypropylene

Model

universal

Absorption

179.5

l/pack
Length

46

m
Width

810

mm
For media

coolants, solvents, lubricants, paints, oils, water, weak chemicals etc.




oils, petrol, diesel etc.

Application

extreme

Situation

leak prevention

Property

absorbent

Type of leakage

drip leaks




surface leaks




spilling

Frequency of use

multiple

Format

rolls

Sheeting grade

heavy

Place of use

indoor use

Product type

absorbent sheeting

Supplied

assembled

Weight

16.12

kg
Information on absorbent agents and spillage management products

(DE)