Cargo restraint strap
standard ratchet, max. tensioning force 5000 kg, pack of 2
Compliant with current EN 12195-2 regulations
Impregnated, non-stretching textile strap made from 100% polyester
Zinc plated, non-ageing steel hardware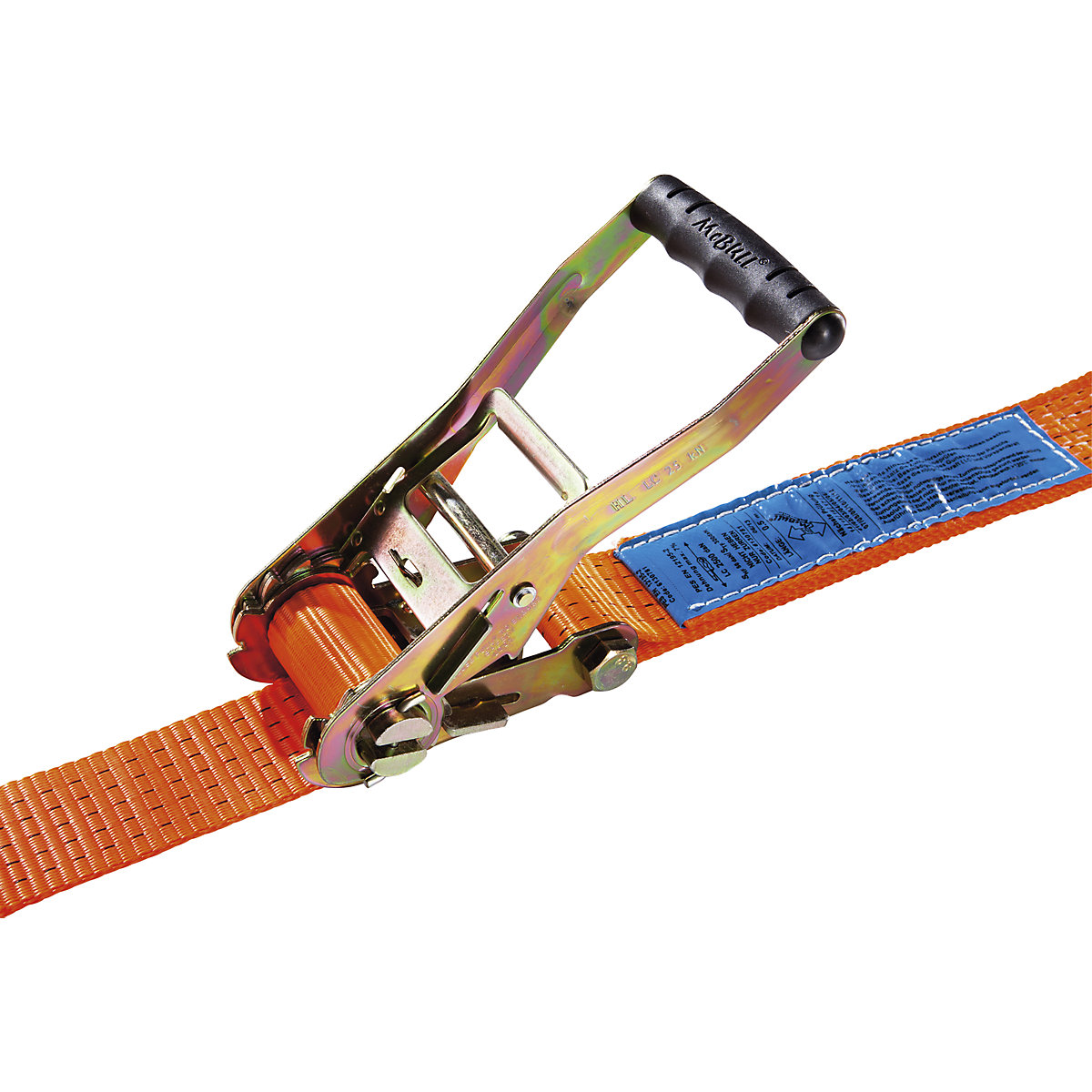 Ref.: 968848 49
Cargo restraint strap, standard ratchet, max. tensioning force 5000 kg, pack of 2, length 8000 mm
Bulk discount of up to 1.41%
| Quantity | Price/Pack | You save |
| --- | --- | --- |
| 1 | | - |
| 3 | | 1.41 % |
Secure your loads easily and quickly by tightening the ratchet.
Securing cargo
When cargo is transported with vehicles, it can be subjected to extremely high dynamic forces, which can be particularly hazardous when braking or turning.
It is important to ensure cargo is properly loaded. There should be no gaps between items and cargo should be professionally secured, as this is regulated by law.
Pack of 2 in colour code orange.
Other lengths and widths, belts with long-lever ratchets or BSC ratchets (prevents any whiplash due to incremental, controlled tension release) available on request.
Compliant with current EN 12195-2 regulations
Impregnated, non-stretching textile strap made from 100% polyester
Zinc plated, non-ageing steel hardware
Length

8000

mm
Width

50

mm
Max. load

5000

kg
Max. load for tensioning

2500

kg
Design of cargo restraint straps

one-part with standard ratchet

Colour code

orange

Material

polyester




steel, zinc plated

Supplied

assembled

Weight

4.2

kg
Customers who purchased this item also purchased