Jessberger – Compressed air container pump set
for flammable media 80 l/min, 600 W
For IBC/CTC tank containers
High level of safety when flammable media are used in hazardous areas
Low weight – easy handling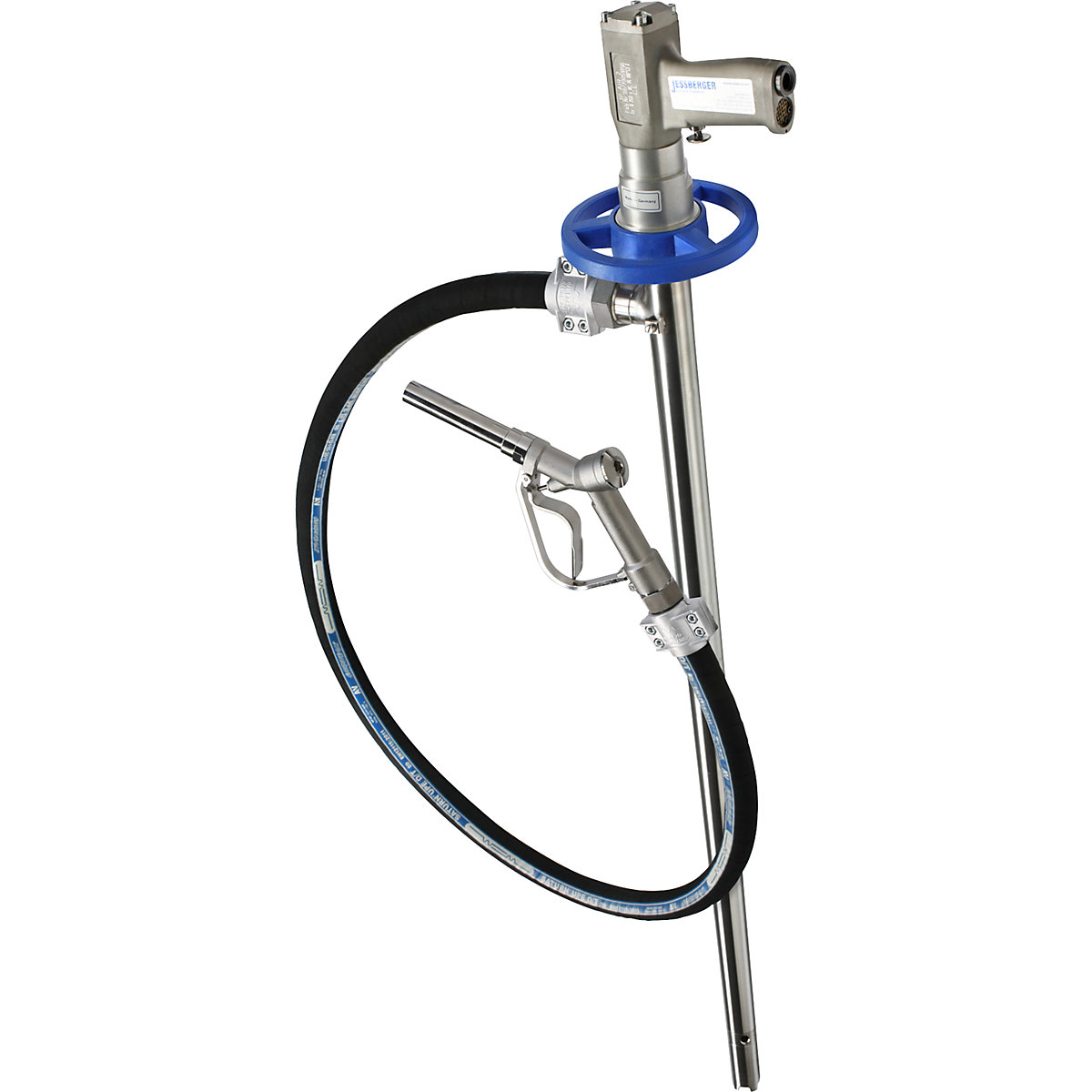 Ref.: 648706 49
Jessberger – Compressed air container pump set, for flammable media 80 l/min, 600 W, explosion protected
Price / items (Excl. VAT)
Compressed air pump set for IBC/CTC tank containers.
For flammable media in explosion hazard zone 0 or for use in explosion hazard zones 1 or 2.

– No-seal version without mechanical seal
– Pump unit made of stainless steel 1.4571
– 2 m conductive multi-purpose hose 1'' (NW 25) made of crosslinked polyethylene
– 2 stainless steel hose connections with 1 1/4'' and 1'' internal threads
– 1 nickel plated brass nozzle with PTFE seals
– 1 potential equalisation cable set for earthing the drum pump

For flammable media:
Alcohol, petrol, brake cleaner, butyl acetate, antifreeze concentrate, isopropanol, kerosene, concentrated formic acid, acetic acid or propionic acid, solvents such as acetone, butanol, ethanol, methanol, toluene etc.

Aluminium compressed air motor, 600 W at max. 6 bar operating pressure, Ex 2GD c IIC T6 (80 °C) X, with silencer, on/off switch as push button can be locked.
Special seals available upon request.
For IBC/CTC tank containers
High level of safety when flammable media are used in hazardous areas
Low weight – easy handling


Connection type

1 1/4

inch
Pump rate

80

l/min
Operating pressure min./max.

max. 6

bar
Power

600

kW
For media

for flammable media




solvents (explosion protected)




flammable hydrocarbons, such as ethanol, petrol, butanol, isopropanol, kerosene, methanol, petroleum




highly flammable/flammable/high purity liquids explosion hazard zone 0

Design of pump

no-seal version without mechanical seal

Material of pump

stainless steel

Pump unit material

stainless steel / PTFE / FKM

Drive shaft material

stainless steel

Immersion depth

1200

mm
Immersion tube diameter

41

mm
Pumping height

10

m wc
Suction hose / discharge hose length to cut to size

2000

mm
Immersion tube length

1200

mm
Nominal hose diameter

25

Max. viscosity at +20 °C

600

mPas
Supplied

pre-assembled, final assembly by customer

Customers who purchased this item also purchased