PRESSOL – Lever operated cylinder-type manual pump
pump rate 18 l/min, with drainage elbow
Two-part suction pipe, can be cut to length
For motor oil, gear oil, heating oil, diesel, machine oil, cutting oil, petroleum, anti-freeze
With plastic drainage elbow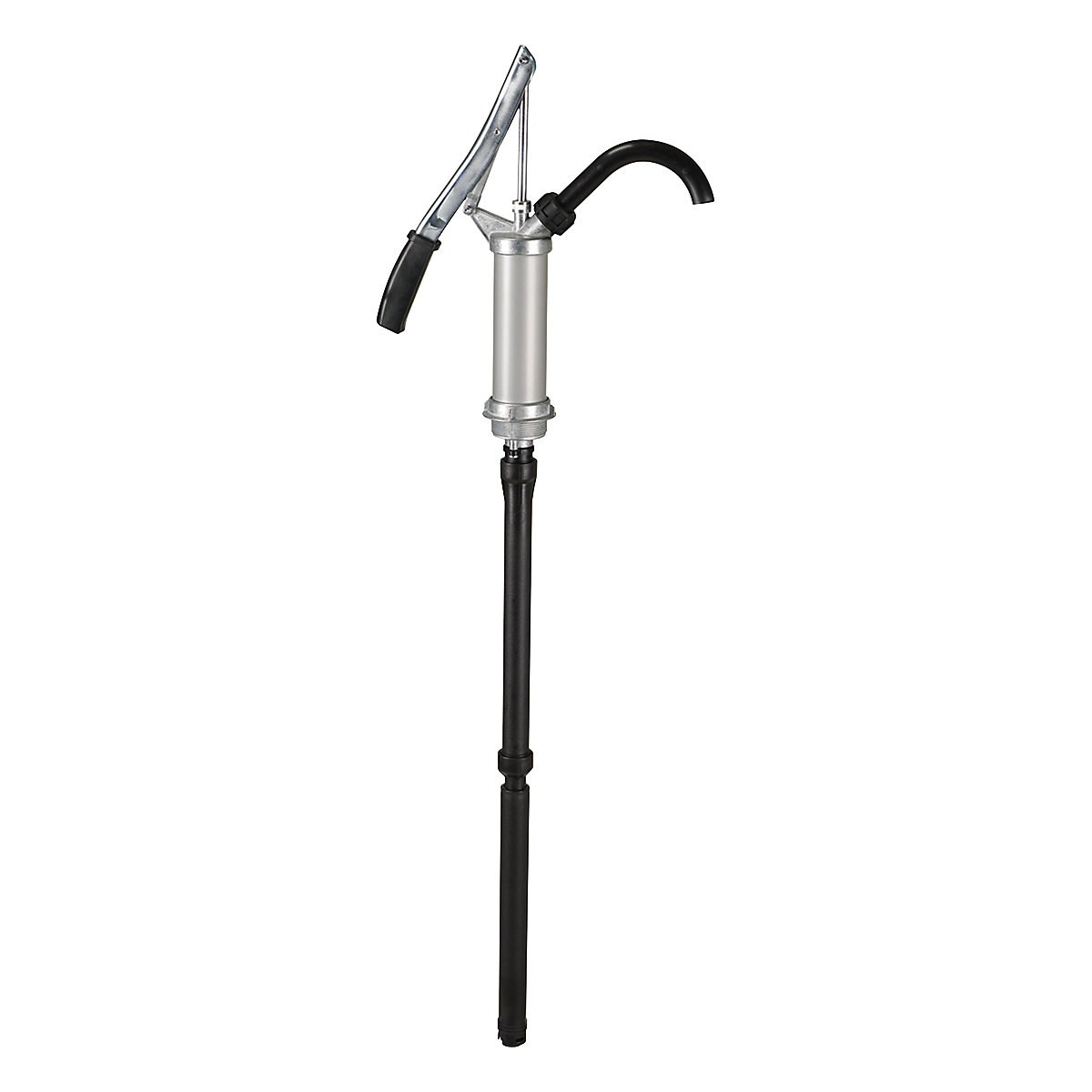 Ref.: 561404 49
PRESSOL – Lever operated cylinder-type manual pump, pump rate 18 l/min, with drainage elbow, for oil, diesel
Bulk discount of up to 7.37%
| Quantity | Price/Pack | You save |
| --- | --- | --- |
| 1 | | - |
| 3 | | 4.21 % |
| 5 | | 7.37 % |
Hand piston pumps with plastic drainage elbow.

For 60/200/220 l containers.
Pump rate: 18 l/min or 0.3 l/stroke.
With drainage elbow (plastic outlet manifold, attached with coupling ring).
Suction pipe length: 355 – 955 mm (can be individually cut to length).
Drum screw connection: G 2''.

For motor oils from SAE 5 W to SAE 50, gear oil from SAE 75 W to SAE 90, heating oil, diesel, machine oil, cutting oil, petroleum, undiluted anti-freeze.

Materials for the parts in contact with media:
Pump head: impact resistant die-cast zinc
Pump body: aluminium
Suction pipe: HDPE (high density polyethylene)
Outlet manifold: PP
Seals: PVC, NBR, FKM

Please note: if media compatibility is unclear, please enquire about the suitability of pumps beforehand.
Two-part suction pipe, can be cut to length
For motor oil, gear oil, heating oil, diesel, machine oil, cutting oil, petroleum, anti-freeze
With plastic drainage elbow
Design of pump

hand pump with immersion tube

For media

oil and diesel




new and used oil, heating oil and diesel




low viscosity mineral oil products, such as diesel, heating fuel, hydraulic, machine and motor oil, etc.

Material of pump

aluminium

Pump rate

18

l/min
Immersion tube length

355 – 955

mm
Thread

G 2

inch
Max. viscosity at +20 °C

750

mPas
Weight

1.59

kg
Supplied

partially assembled

Customers who purchased this item also purchased
Together we are strong: Helpful information about this product.