LISTA – Heavy duty pull-out shelving unit
shelf width 1290 mm, depth 1260 mm, standard shelf unit
Available as a complete shelf unit
Ideal for storing heavy goods, such as injection moulds, punching tools, motors, etc.
Maximum stability provided by welded steel construction
Pallet storage crossways or lengthways
Loading possible using crane and forklift truck
Pallet storage: on either a fixed frame or on the floor
Easy to move heavy duty drawers that can be locked in place when pushed in and when pulled out
Heavy duty drawers: placement of moulded chipboard or sheet metal panels allows the goods to be stored flush and be pulled out
Heavy duty drawers – Max. load 800 kg

Safety tested
This is a test symbol. GS stands for certified safety.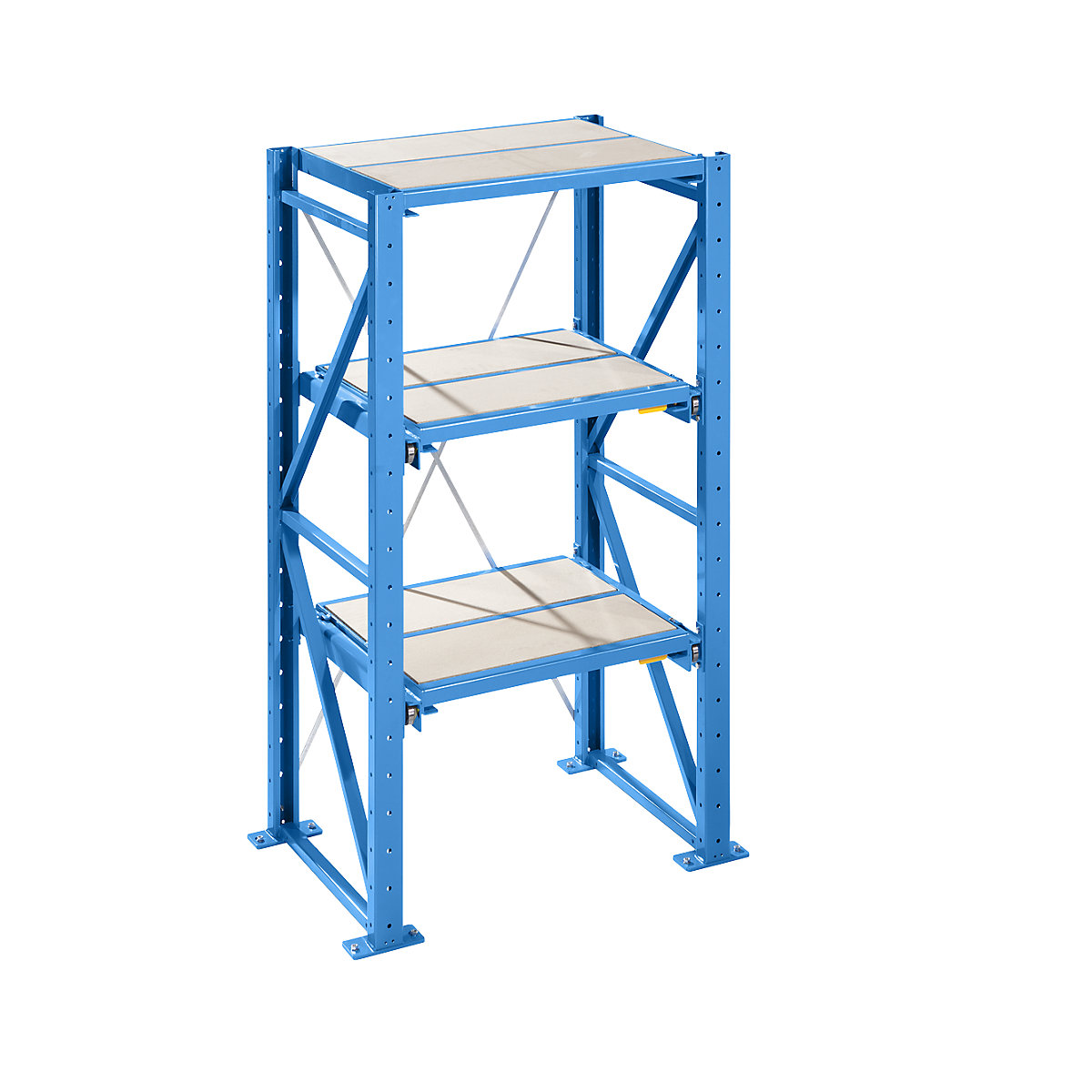 LISTA – Heavy duty pull-out shelving unit, shelf width 1290 mm, depth 1260 mm, standard shelf unit, reseda green
Price / items (Excl. VAT)
Standard shelf unit consisting of
– 2 uprights, incl. floor anchoring (8 x bolt anchor M12 / 140) and levelling plate set (2 x 1 mm, 2 mm and 4 mm thick)
– 2 extension frames for partial extension (65 %) incl. 2-part chipboard inlay, 40 mm thick
– 1 fixed frame as a top shelf incl. 2-part chipboard inlay, 40 mm thick
– 1 diagonal cross brace for longitudinal stabilisation

Max. load top shelves 100 kg.
Max. fixed frame and extension frame shelf load 800 kg.
Safety information
1. A diagonal cross brace must be installed in each standard shelf unit and in every 3rd extension shelf unit.
2. Anchoring regulations: heavy duty pull-out shelving must always be anchored to the floor.
3. When the complete shelf units are installed, the floor anchoring provided is suitable for a floor with a concrete strength class of at least B25, for a maximum screed depth of 35 mm and a concrete thickness of at least 200 mm.

The specified max. load applies with uniform load distribution. Only one extension frame may be extended per shelf bay.

Determining the overall shelf unit width
Number of shelf widths + number of upright widths 80 mm + 2 x outside footplate widths 60 mm.
Extension frames, fixed frames and top shelves in the same colour as the support frame.
Supplied flat pack.
Side panels, rear panels, covers, sliding doors, roller shutters, floor anchoring for different floor conditions are also available on request.
Available as a complete shelf unit
Ideal for storing heavy goods, such as injection moulds, punching tools, motors, etc.
Maximum stability provided by welded steel construction
Pallet storage crossways or lengthways
Loading possible using crane and forklift truck
Pallet storage: on either a fixed frame or on the floor
Easy to move heavy duty drawers that can be locked in place when pushed in and when pulled out
Heavy duty drawers: placement of moulded chipboard or sheet metal panels allows the goods to be stored flush and be pulled out
Heavy duty drawers – Max. load 800 kg
Safety tested
This is a test symbol. GS stands for certified safety.


Max. shelf load

800

kg
Max. bay load

9000

kg
Shelf unit height

2000

mm
Overall width

1490

mm
Overall depth

1260

mm
Material

steel

Shelf unit type

standard unit

Adjustment grid

100

mm
Pull-out shelf width

1290

mm
Scope of delivery

2 uprights, incl. floor anchoring and levelling plate set, 2 extension frames for single drawer incl. chipboard inlay, 1 fixed frame as a top shelf incl. chipboard inlay, 1 diagonal cross brace for longitudinal stabilisation

Product type

heavy duty bolt-together shelving

Supplied

flat pack

Weight

240

kg

Customers who purchased this item also purchased