Edmolift – Pallet lifter
with 2 x 40° tilt function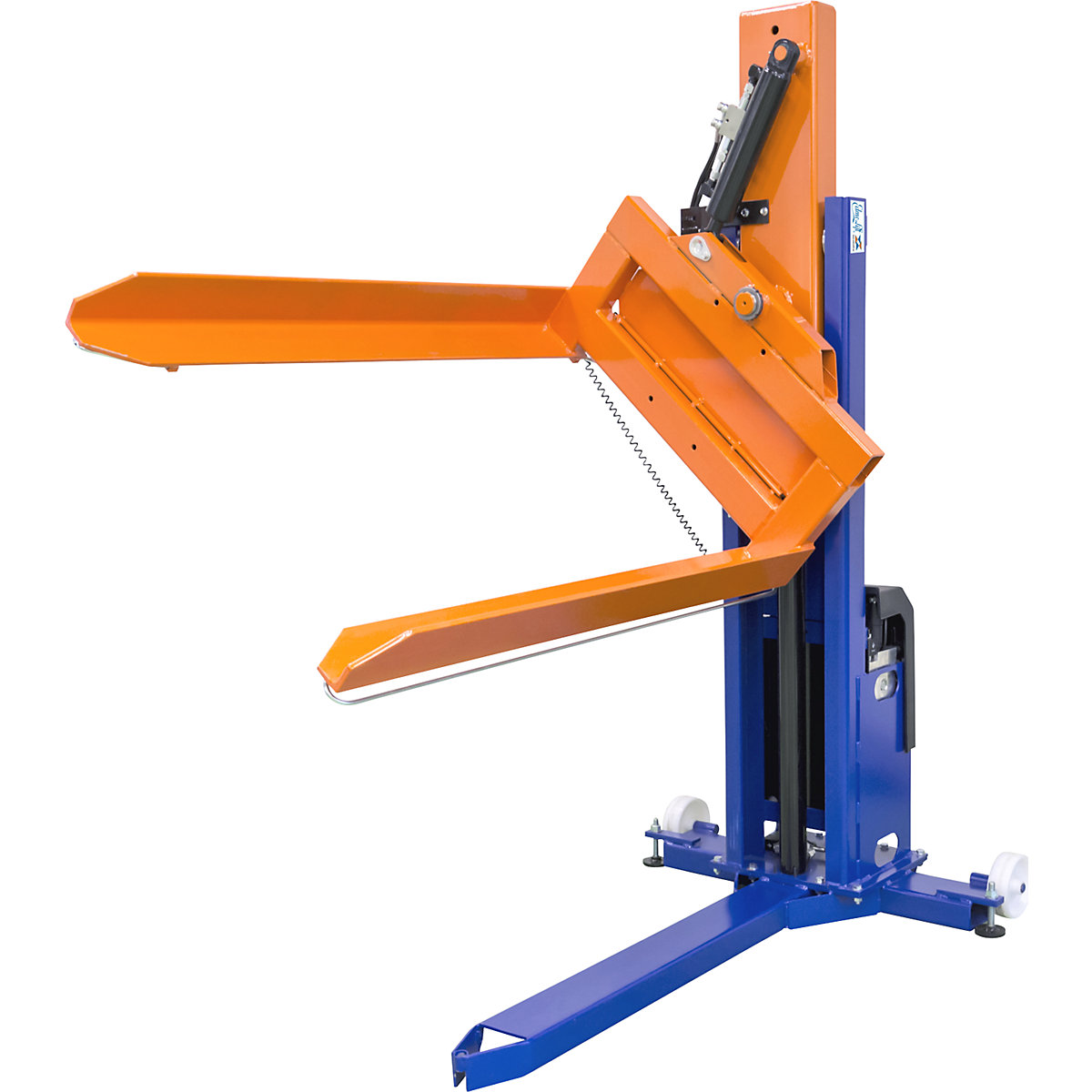 Edmolift – Pallet lifter, with 2 x 40° tilt function, lifting range 70 – 970 mm, max. load 750 kg
Price / items (Excl. VAT)
The pallet lifters made by EdmoLift allow items to be lifted to a working height of up to 970 mm with no effort at all. The pallet lift provides legroom and space for the user's feet on three sides, with this excellent degree of accessibility ensuring work proceeds smoothly.
Pallets, mesh pallets or containers can be placed directly on the pallet lifter using a pallet truck or forklift truck.

Product features
– Customer-specific adaptations possible; we will provide forks tailored to your specific requirements on request
– Good accessibility from three sides
– Compliant with EN 1570-1 – features the CE mark
– 24 V DC control unit and operating devices with dead man switch
– Electrical system compliant with IP54
– Overload protection
– Adjustable, high sensitivity protective bars on the outside of the forks
– Pallet lifters feature electrical safety valves. TSL/TSE do not feature mechanical service locks
– Maintenance free bearings

These pallet lifters are equipped with a variable tilting function and can be tilted to the left or right by 40°.
This makes the work much easier, as it opens an ''ergonomic window'' that helps the operator to avoid stretching, while ensuring a good overview of the contents of the load unit.
Platform design

closed

Power

0.75

kW
Operating voltage

400 V

Control voltage

24

V
Lift drive

electro-hydraulic

Platform colour

signal orange RAL 2010

Platform material

steel

Platform finish

sheet metal

Finish

sheet metal

Product type

pallet lifters

Lifting capacity at full load in multiple-shift operations

max. 10 cycles per hour

Protection class

IP54

Feature

stationary




electro-hydraulic

Slope

by 40° to both sides

Supplied

pre-assembled, final assembly by customer

Customers who purchased this item also purchased