EUROKRAFTpro – Stainless steel small container sump
with certification
For the storage of aggressive, corrosive and flammable media in small containers
Robust, seamlessly welded construction made of highly resistant stainless steel
With manufacturer's declaration of conformity in accordance with StawaR

Resistant to aggressive, corrosive chemicals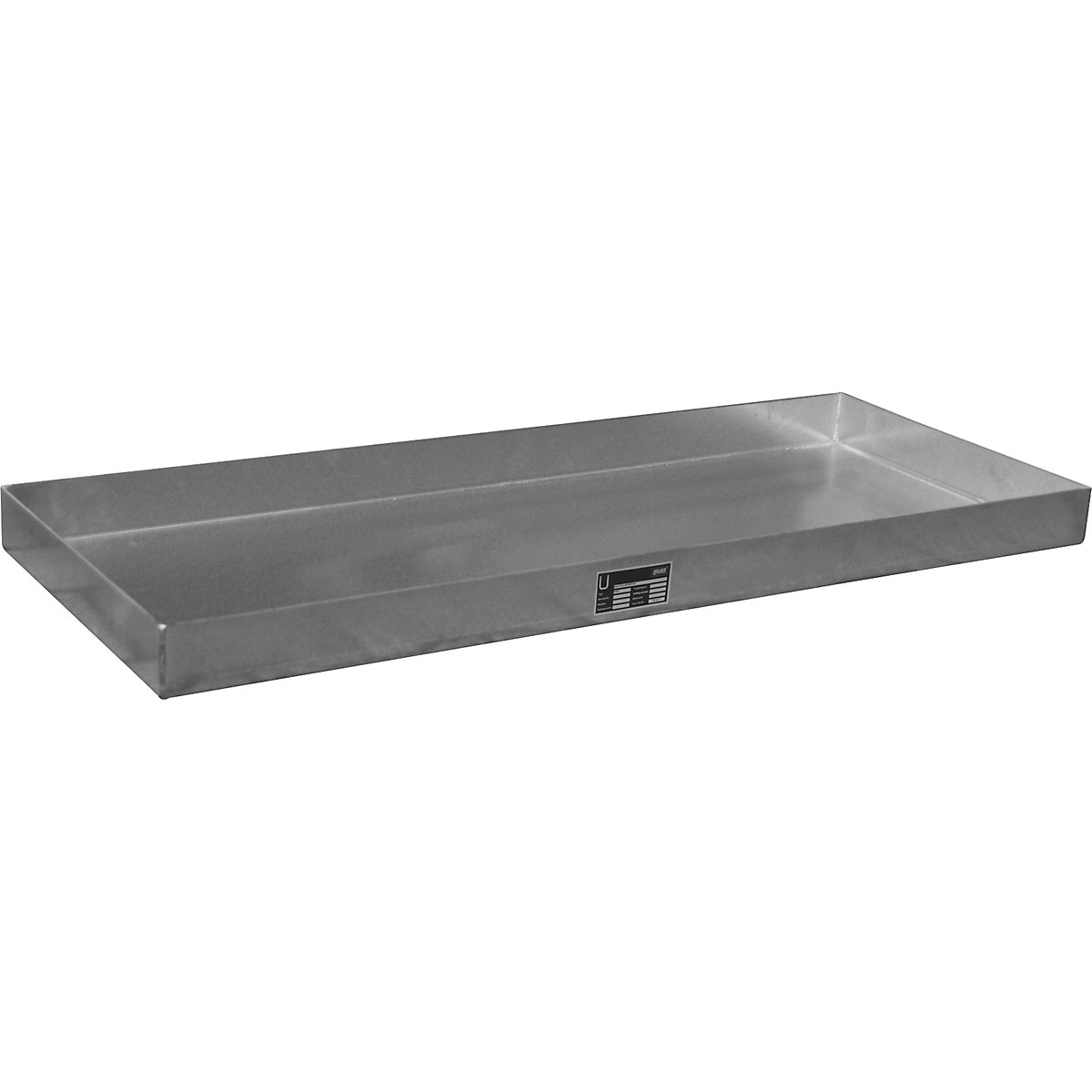 EUROKRAFTpro – Stainless steel small container sump, with certification, 20 l, LxWxH 940 x 370 x 60 mm, 5+ items
Sump tray made of highly resistant, non rusting 2 mm thick stainless steel.
For safe and regulation compliant storage of aggressive, corrosive and flammable media, chemicals, acids and alkaline solutions etc. in small containers.

Long term corrosion protection when aggressive chemicals are stored.
Ideal for use directly at the workplace – on the workbench etc.

Small containers are placed directly in the sump tray or on a perforated sheet metal grate (accessory) placed inside it.

With manufacturer's declaration of conformity in accordance with StawaR
Approved for flammable liquids in GHS categories 1 – 3
Approved for water hazardous liquids in GHS categories 1 – 4
Approved for corrosive liquids in GHS category 1

Please note:
Suitable perforated sheet metal grates available as accessories – please include with your order.
For the storage of aggressive, corrosive and flammable media in small containers
Robust, seamlessly welded construction made of highly resistant stainless steel
With manufacturer's declaration of conformity in accordance with StawaR
Resistant to aggressive, corrosive chemicals



For water hazardous liquids


Rust free stainless steel

Material

stainless steel

Drum capacity

small containers

Max. load

150

kg
Test symbol

manufacturer's declaration of conformity in accordance with German construction regulation list A, part 1, DIBt, Berlin

Material thickness

2

mm
Hazard class

for flammable liquids in GHS categories 1 – 3, for water hazardous liquids in GHS categories 1 – 4 and for corrosive liquids in GHS category 1

Certification

with

Supplied

assembled

Customers who purchased this item also purchased