EUROKRAFTpro – Stainless steel sump tray
for liquid storage container
For the storage of aggressive, corrosive and flammable media
Base clearance – for easy transport using a forklift truck or pallet truck
With certification – manufacturer's declaration of conformity in accordance with StawaR
For 1000 litre IBC/CTC tank containers (even when combined with 60/200 litre drums or small containers)

Resistant to aggressive, corrosive chemicals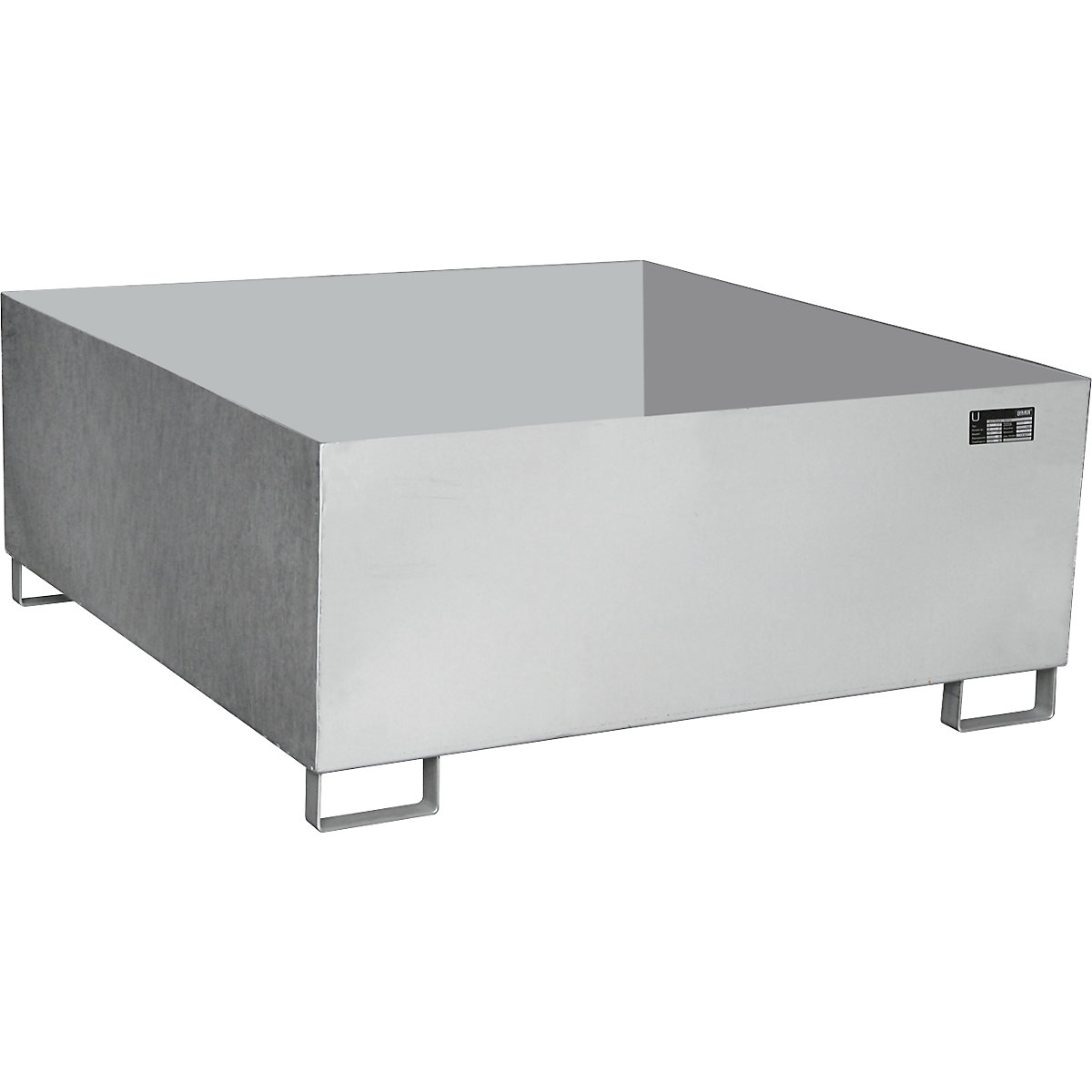 EUROKRAFTpro – Stainless steel sump tray, for liquid storage container, 1 IBC, LxWxH 1460 x 1460 x 620 mm, 3+ items
Sump tray made of highly resistant, non rusting 2 mm thick stainless steel.
For safe and regulation compliant storage of aggressive, corrosive and flammable media, chemicals, acids and alkaline solutions etc. in small containers.
Long term corrosion protection when aggressive chemicals are stored.

100 mm base clearance – for easy transport using a forklift truck or pallet truck.

With manufacturer's declaration of conformity in accordance with StawaR
Approved for flammable liquids in GHS categories 1 – 3
Approved for water hazardous liquids in GHS categories 1 – 4
Approved for corrosive liquids in GHS category 1

Please note: zinc plated or stainless steel grate available as an accessory.
For the storage of aggressive, corrosive and flammable media
Base clearance – for easy transport using a forklift truck or pallet truck
With certification – manufacturer's declaration of conformity in accordance with StawaR
For 1000 litre IBC/CTC tank containers (even when combined with 60/200 litre drums or small containers)
Resistant to aggressive, corrosive chemicals



For water hazardous liquids


Rust free stainless steel

Sump capacity

1000

l
Material

stainless steel

Clearance height

100

mm
Test symbol

manufacturer's declaration of conformity in accordance with German construction regulation list A, part 1, DIBt, Berlin

Material thickness

2

mm
Hazard class

for flammable liquids in GHS categories 1 – 3, for water hazardous liquids in GHS categories 1 – 4 and for corrosive liquids in GHS category 1

Certification

with

Supplied

assembled