Back
The EUROKRAFTpro NEO e-module
Are platform trolleys with heavy loads being moved around in your warehouse? Then start making work easier and more efficient for your employees: upgrade your transport equipment by adding our e-module. The electric drive makes it easy to move loads of up to 500 kg. This not only takes most of the strain off both the user and the equipment, but also speeds up your work processes.
This is what you can use it for
Flexible combination options
You can purchase the EUROKRAFTpro NEO e-module either individually, or in combination with our own platform trolleys from our product range.
Planning reliability
We guarantee an after-sales service of 5 years and an excellent spare parts availability.
Reliability
You benefit from premium quality, backed by a 10 year guarantee.
Sustainability
Ergonomics
Significantly improvements to work performance / efficiency
Use your electric drive
Everywhere where manually operated fork lift trucks are used
Always ready for operation
Easy assembly: highly versatile modular design
Drive battery: spare lithium-ion battery
Charging status: indicated visually and acoustically by a battery level indicator
Full mobility: up to 8 h of operation with one battery charge
Spare battery system: simply replace the drained battery with a fully charged one to ensure continuous operation.
Pairing: via Bluetooth, wireless. Fleet operation possible.
Charging time: 6 h until fully charged
Charging adapter: can be found under Accessories
Easy navigation
Fatigue-free operation: due to ergonomically shaped, multifunctional drawbar head
Easy steering: due to sturdy tubular handles
Infinitely adjustable speed control: using two thumb keys (maximum speed is 4 km/h)
Creep speed: can be activated as required, for high precision forward and reverse motion
Warning function: horn on drawbar head
Safety belly switch: prevents anything being caught when reversing
Integrated foot protection: prevents being caught under the drive unit
For everyone: no certificate of competence required
Protection against theft: access control by means of lock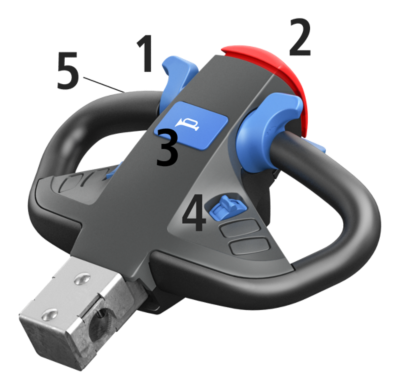 Thumb key (infinitely adjustable speed control)
Belly switch
Horn
Creep speed mounting adapter
USB charging port below belly switch
Our top products from this guide
Our top categories from this guide